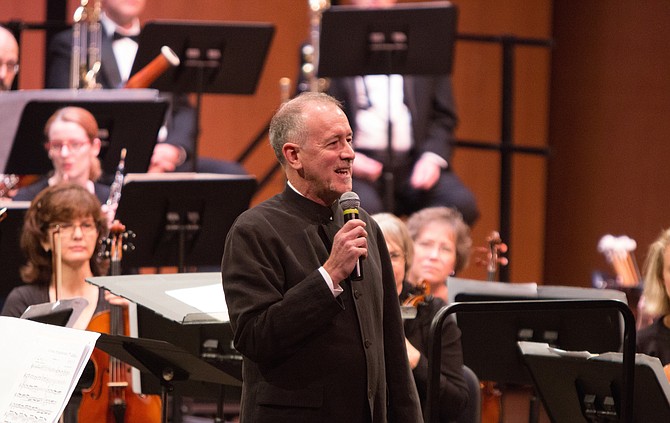 The Washington, D.C. metro region boasts some of the finest culture institutions and performing arts groups in the country. Although you may be tempted to cross the river for a night out, you may not know a shining gem is right in your neighborhood.
Celebrating its 75th anniversary season this year, the Alexandria Symphony Orchestra draws from the wealth of musical talent throughout the region; many ASO musicians are principals with other professional orchestras. This fall the ASO will welcome top soloists to the stage along with the new maestro, James Ross, who assumed the baton as music director earlier this month.
In the spring of 2018, the ASO completed a two-year international search, hiring Ross as its fifth music director. Ross was selected among 170 applicants and participated in the 2017-2018 season as a finalist, conducting and programming his performances. ASO audiences, musicians and trustees rated the candidates following each concert, and this valuable feedback influenced the final selection.
The ASO presents eight main series concerts (four pairs of weekend performances) from September to April. Saturday evening performances are held at the Rachel M. Schlesinger Concert Hall and Arts Center (NVCC – Alexandria campus), and Sunday matinees are held at the iconic George Washington Masonic Memorial. Both venues are metro-accessible and offer free parking. Attendees of all ages are welcome; youth tickets (18 and under) are $5, and student tickets (with ID) are $10.
In additional to its orchestral series, the ASO underwrites ASO Sympatico, an El Sistema-inspired music education program at John Adams Elementary School (Alexandria City Public Schools), launching its fifth school year this fall with six ensembles serving 130-plus students.
Each July, the ASO performs a free outdoor public concert at the Alexandria Birthday Celebration in Oronoco Bay Park (Alexandria waterfront), complete with fireworks and live cannons. Many ASO concerts and events throughout the year include an educational component. In total, the ASO reaches more than 40,000 people annually through performances, music education programs and community outreach.
The ASO is supported by the community through ticket sales, individual gifts, corporate sponsorships and grants. In April 2018, the ASO launched a three-year 75th Anniversary Campaign to initiate new projects, expand community outreach and support the events surrounding the anniversary. To contribute to the 75th Anniversary Campaign or to purchase tickets, call 703-548-0885 or visit www.alexsym.org.