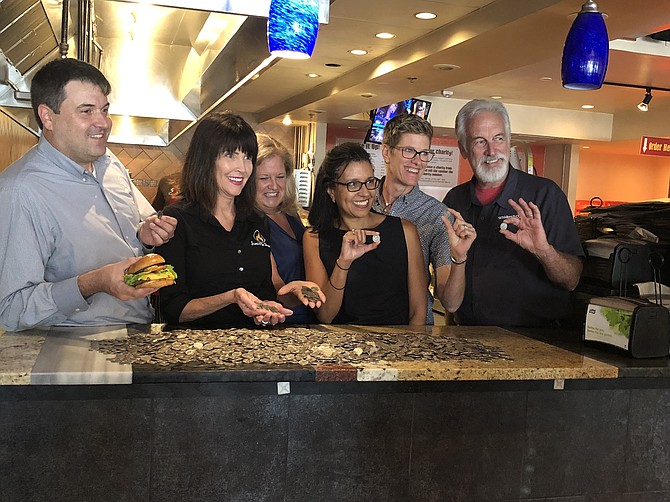 Holy Cow, Del Ray's Gourmet Burger Joint, marked a milestone Aug. 21: the donation of more than 400,000 quarters, or $100,000, to local charities through ACT for Alexandria. Since the restaurant opened in 2012, it has donated $.25 for each burger sold to more than 250 charities as selected by the patron.
"People spend more time trying to decide which charity to donate to than they do which burger to order," joked co-owner Donna Anderson. "To save time you can check out the list of charities online at HolyCowDelRay.com before ordering."
Dining out at Holy Cow is one small way to give back to the community. From national organizations like Rotary and Lions Clubs to local nonprofits like Senior Services of Alexandria, there are seemingly endless opportunities to volunteer your time and talents.
"Volunteer Alexandria is a connector of people and groups interested in getting involved in our community and organizations who are in need of volunteers to help them fulfill their mission," said Marion Brunken, executive director of Volunteer Alexandria. "Often, people don't know where to start so we will help anyone who wants to volunteer."
Volunteer Alexandria will help connect individuals six years or older with a nonprofit organization or city agency that needs assistance and suits their interests.
"It's really easy to be matched," Brunken said. "Just visit VolunteerAlexandria.org, enter a keyword, zip code, or age, and the system populates a list of current opportunities. Or just call us 703-836-2176. We also help businesses find ways to make a difference in the community."
Other volunteer opportunities include Senior Services of Alexandria, which uses volunteers for Meals on Wheels deliveries as well as the Friendly Visitor Program and Groceries to Go service. Carpenter's Shelter, the city's homeless shelter, uses volunteers for administrative tasks and meal services.
The American Legion provides support and services for veterans from World War II through the War on Terror. Members also volunteer in numerous community activities, including Rebuilding Together Alexandria, which works year round to repair and rehabilitate homes free of cost for those in need, including the elderly, persons with disabilities, military veterans and families with children.
Since 1948, the Alexandria Sportsman's Club has been providing scholarships to high school athletes through fundraising events and monthly meetings that feature speakers such as NFL Hall of Famer Darrell Green.
Alexandria's sense of community and service are considered by many to be the city's greatest attraction.
"Any level of volunteering will make a difference," Brunken added.
Alexandria Rotary Club, www.alexandriarotary.org; Alexandria West Rotary Club, www.awrotary.org; Alexandria Sportsman's Club, www.alexandriavasports.org; American Legion Post 24, www.valegionpost24.org; Animal Welfare League of Alexandria, www.alexandriaanimals.org; Carpenter's Shelter, www.carpentersshelter.org; Fraternal Order of the Eagles, www.foe871.com; Kiwanis, Kiwanis of Del Ray, www.alexandriakiwanis.org; Lions Club of Alexandria, www.lionsclub.org; Rebuilding Together Alexandria, www.rebuildingtogetheralex.org; Senior Services of Alexandria, www.seniorservicesalex.org; and Volunteer Alexandria, www.volunteeralexandria.org.