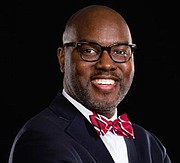 Hello and welcome to all of our new students and new families! And of course, welcome back to all of our returning students and their families, too.
It's been just over two months since I returned to Alexandria as your Superintendent of Schools and I have to say, it is so good to be back home. Alexandria is such a great place to live and work and our community is especially diverse, vibrant and welcoming. We want to make sure that every one of you feels that great sense of community when you walk through the front doors of our schools. We are working hard to get our schools ready so all of our students feel comfortable, welcome and ready to learn on day one.
At ACPS, we stand for every student succeeding. We have students from 118 different countries who speak 120 different languages and this diversity is truly a gift. There is no other school division where students can experience such a rich global environment as the one we have in the city of Alexandria. Our students in ACPS graduate being able to fully engage in and contribute to our dynamic world. Time and time again, our students come back and tell us they were better prepared for their college experience or their work environment, thanks to their ACPS experiences, and best of all they actively want to give back to our community as a result.
This year, we will be welcoming around 15,700 students and while that growth is a cause for celebration, we also need to make sure we are preparing for it in the future. This fall, we will be looking to create a new vision for high school programing that matches the future workforce needs of Alexandria, the DC metro area, the United States and beyond.
Some of you have already heard that we recently launched the Governor's Health Science Academy at T.C. Williams High School in collaboration with The George Washington University. This is the first public-private educational partnership of its kind in Virginia. Students who graduate from the Health Sciences Academy have the opportunity to earn up to 22 college credits and get automatic acceptance to The George Washington University. We hope to create more partnerships like this in the future and expand our high school offerings as well as opportunities still further.
As part of my 100-Day Entry Plan, I will be meeting with a wide range of school, community and business leaders whose expertise and knowledge of the community will afford ACPS an opportunity to ensure every student succeeds upon graduation of ACPS. I, too, have two children who attend ACPS and understand the importance of a high quality educational experience. Just like you, my wife and I get one shot to raise our children and it is imperative that our schools provide an engaging learning environment that allows all students to thrive academically. Furthermore, we must prepare students to be able to think critically and make wise decisions to afford a productive life. Together, I know that we can meet our students where they are and provide the support needed to help them achieve success regardless of their life circumstances.
Staying connected is one of the most important things we can do to strengthen our sense of schools as the heart of our community. Your engagement, feedback and input will set ACPS on the trajectory to attain our ACPS 2020 goals over the next two years and beyond. Please sign up to receive our weekly school news via ACPS Express at www.acps.k12.va.us/news, or connect with us in English, Spanish, Arabic, Amharic on Facebook, or Spanish and English on Twitter.
We know this is going to be an awesome school year. You can make this the best year ever for your child by staying connected to your child's school. Volunteer, join your PTA and attend community meetings. There is real power in being involved and we are so grateful that you've given us the honor of serving our ACPS families each day.