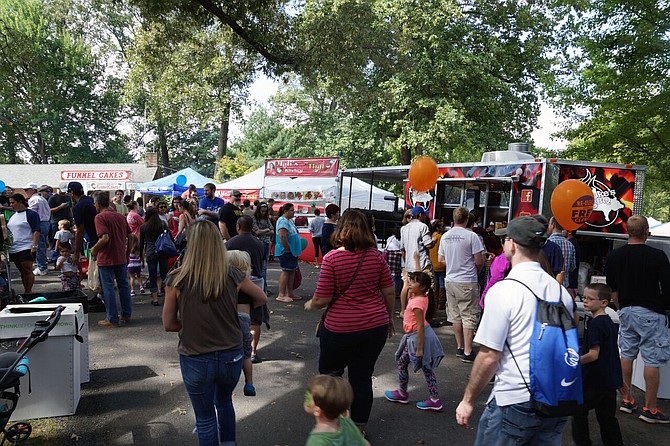 Between 8,000 and 12,000 visitors are expected to attend the 41st annual Burke Centre Festival scheduled for the weekend of Sept. 8-9, 2018, at the Burke Conservancy Festival Grounds off Burke Centre Parkway in Burke. The hours are Saturday from 9:30 a.m. to 5 p.m.; and Sunday from 11 a.m. to 5 p.m. The after-hours Wine Garden hours are from 5-10 p.m. with last call at 9 p.m. It is free to attend.
According to Jeannie Winslow, Director of Administration: "I think what makes the Burke Centre Festival special is it attracts everybody from all walks of life from the community. We all come together and look forward to this event and try to showcase local talent. We try to find something that will appeal to all ages, all groups. We also offer a lot of affordability for families; there's a lot of things they can do here for free."
With a total of 150 booths in all, this year's festival includes an Arts and Crafts Show with 80 exhibitors, and 30 community outreach booths. There will be Karaoke, Fairfax County Police, Fire and Rescue displays, an emergency preparedness area, and dance and other entertainment. There will be exhibitors displaying photography, furniture, glass, ceramics, jewelry, art, handmade soap, candles, knits, as well as interactive booths like henna artists and sand art. Some of the roving characters for the children include: PJ Masks, Unicorns, Pikachu from Pokémon, and McGruff the Crime Dog.
In addition, there will be amusement rides, pony rides, interactive wildlife shows, high-quality face painting, a hypnotist show, a nursing mom's private tent, basketball toss, Midway-style games, giveaways and drawings, and more. No pets are permitted on the festival grounds.
Five bands will be performing, including local bands Sub-Radio and Roanoke. "We try to get new features every year. We have new music that's coming on the stage this year. They're young and very much online and they have an internet presence so we're hoping a lot of people will be drawn to the shows," said Winslow.
There will be 20 food vendors including the Burke Lions and the Springfield Rotary Club. There are two different Asian food options; one out front and one in the back. In addition, there will be North Carolina Ribs, funnel cakes, Kettle corn and shaved ice cream.
At 9:30 a.m., the Flag-Raising Ceremony opens with the Burke VFW and Boy Scout Troop 1345. Legacy Brass Band will be the opening band. Ticket sales, rides, shows, etc., do not start until the opening ceremony has ended at 10 a.m.
A free shuttle bus service will pick up riders along Burke Centre Parkway; parking will be available at all five BCC community centers. The venue will be at 6060 Burke Centre Parkway, Burke. Call 703-978-2928.