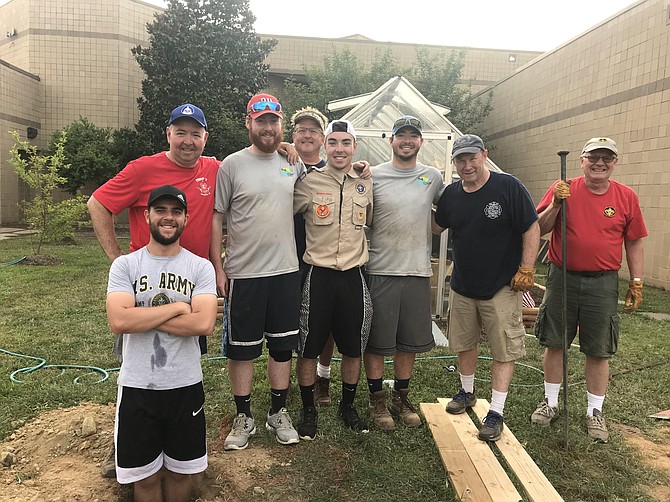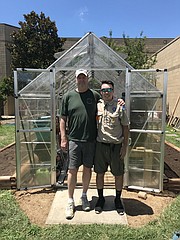 For his Eagle Scout project, Connor Whalen, 17, of Centreville's Walney Glen community, renovated the special ed greenhouse located behind Centreville High School, which had been vandalized. The project involved fixing the side panels that were missing, fixing the door, making flower beds and building benches.

"I just wanted to help out the community the best I could. I feel really great about it considering it's helping out the special ed program at Centreville High," said Connor, a rising senior at CVHS. "It's going to make an impact and get them outside and help them by enhancing their school and helping them to be able to learn."
Connor, the youngest son of Patti and Kevin Whalen, has three older brothers who are Eagle Scouts: Sean, 26, Matt, 23, and Ryan, 21.
A Boy Scout with Troop 17, affiliated with the Centreville Volunteer Fire Department, Connor got the idea for the project from his varsity football coach, Tommy Lamb, who is also a special ed teacher at CVHS. He spent two months planning the project and organized about 20 Scouts in building new panels, benches, and flower beds — at a cost of around $1,200. The Remington Mulch Co. donated the mulch and top soil and Loew's gave a discount on the landscaping timber for the flower beds and pressure-treated timber for the benches.
The Scouts took three days to complete everything — July 7, 12, 14 — making the flower beds, installing the fences, staining the benches and fixing the panels. On the last day, it was mostly his family members who helped complete everything. His Scoutmaster Kevin Gaughan provided guidance with the project.
All in all, Connor spent about 30 hours planning everything — emailing the District representative, consulting with his Scoutmaster, buying the materials — and then 12 hours to complete the whole project.
"With Connor, he'll be the fourth son of the Whalen family to make his Eagle Scout Project, so we're all proud that on his own initiative he found a meaningful Eagle project to benefit the local community and that he found one benefitting the special education department of the school," said dad Kevin Whalen, who is the assistant scoutmaster. "They were proud of him for finding that project and organizing it and getting his team together and working with Coach Lamb. He got his older brothers together — Sean, Matt, and Ryan — who all achieved their Eagle status and did projects in the Centreville area."
The greenhouse is now finished but Connor still has to complete a few merit badges and meet with the District representatives to go over final details of the project. He hasn't set a date yet for his Eagle Court of Honor.
In addition to Scouts, Connor is active at Centreville High School in football, where he plays outside linebacker, and baseball (outfielder). He also works part-time as a landscaper for Whalen Landscaping, which sponsored the project.