"Mom truly loved Alexandria. In her heart, this was always her home." —Joann Miller's daughter Adrienne Miller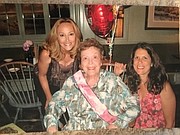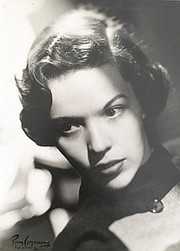 As a young military wife, Joann Miller picked up and moved often. But she and her husband, Air Force officer Edward Anthony Miller Jr., had a different way of collecting souvenirs from their travels: they adopted children.
"I always joke that mom and dad picked up a kid everywhere they went," said Adrienne Miller, a recently retired Alexandria police officer and one of three children adopted by Miller and her husband. "My friends would ask if that bothered me but I was always really proud of it. Mom always said 'I didn't just have you – I had my choice. I got to pick you.'"
When Ed Miller was assigned to duty at the Pentagon in 1967, Miller chose Alexandria to raise her family and, for more than 40 years, worked to help better the lives of those in the community. On Nov. 20, the political leader and tireless advocate for battered women, children and the elderly died at Greenspring Retirement Community from complications related to Alzheimer's disease. She was 91.
Born in Detroit on June 23, 1927, to Bernard and Nettie Gough, Joann Elizabeth Miller attended Mackenzie High School where she began volunteer work as a member of the Girl's Reserve. She graduated in 1945 and attended the University of Michigan, where she continued her volunteer work as a member of the Girl's Reserve, Women's League and Sodality. She graduated in 1950 with a bachelor's degree in philosophy from the college of arts and sciences.
Upon graduation, Miller began work for the U.S. State Department Information Agency in Bordeaux, France, where she met her future husband. They married in Eastbourne, England, in 1953.
Together they adopted three children during Ed Miller's U.S. assignments: Michael Miller in New Jersey, Maria Van Horn in Colorado, and Adrienne Miller in Alabama. Throughout this time Miller was involved with the American Association of University Women and volunteered with several organizations during each assignment.
In 1964, the family moved to Rome, where Ed Miller was assigned as an Air Attaché at the American Embassy. Miller continued her volunteer work while overseas but it was in Alexandria where she was able to make the greatest difference.
"Mom truly loved Alexandria," said Adrienne Miller. "The hardest part in her moving to Greenspring was that it was not in Alexandria. In her heart, this was always her home."
Miller, who was recognized as a Living Legend of Alexandria in 2013, was a past president of the Alexandria AAUW. Among her many accomplishments, she was one of the founders of Alexandria's Commission on Women and, in 2010, the commission honored her with the Marian Van Landingham Legislation and Public Policy Award.

Miller also led the Public Safety Committee of Alexandria's Commission on Aging. In 2010, the Commission on Aging presented her with the Annie B. Rose Lifetime Achievement Award. She volunteered as a counselor at the Alexandria Battered Women's Shelter and chaired the Substance Abuse Committee for the Alexandria Community Services Board.
Additionally, Miller was instrumental in winning the right for females to be firefighters with the Alexandria Fire Department.
"It was never a conscious decision but I turned out to be the kind of female my mom always said women could be," said Adrienne Miller. "My work with the Alexandria police department and dealing with cases of abuse and elderly victims — obviously she had much more of an influence on me than I realized. Because of her I am the way I am, which is a good thing."
Miller was a member of the Alexandria Democratic Committee since 1975 and served as chair from 1983-1987. She also chaired the United Way National Capital Area Budget & Allocation Committee, the Metropolitan Washington Council of Governments Human Resources Committee and Alexandria's 4H program.
As a counselor with the Alexandria Battered Women's Shelter she provided shelter for families in her own home. She also served as a counselor at ALIVE's family services program and was a Trustee of the Virginia Fine Arts Association.
For several years in the 1990s, Miller was a sales associate at Nordstrom's in Pentagon City.
"Truth be told, she spent more money than she made," joked Adrienne Miller. "With that 33 percent discount, she was like a kid in a candy store."
Miller was pre-deceased by her husband, Edward A. Miller, Jr., who died in 2001. She is survived by three children: son Michael Miller of Seattle; and daughters Maria Van Horn (Thomas) and Adrienne Miller of Alexandria. She is also survived by three grandchildren: Alexandra Van Horn, Eric Van Horn and Rebecca Van Horn.
Visitation is scheduled for Dec. 6 from 5-8 p.m. at Everly-Wheatley Funeral Home, 1500 West Braddock Road. A funeral Mass will be held Dec. 7 at St. Rita Catholic Church, 3815 Russell Road, at 11 a.m. with light refreshments to follow at the Morrison House, 116 S. Alfred St.
"Mom was amazingly compassionate but at same time very down to earth," Adrienne Miller said. "I'm heartbroken that I've lost her and that Alexandria has lost her. I have to remind myself though, that she had an amazing, full and productive life — definitely a life well spent."
Burial will be at Arlington National Cemetery at a later date. In lieu of flowers, donations may be made to the Alzheimer's Foundation of America. "Or simply do something kind for someone on Dec. 7 in honor of Mom," Adrienne Miller added.