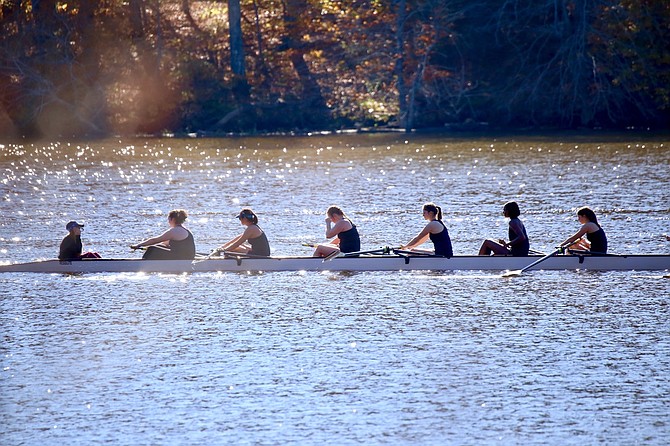 In two regattas ending the fall season, the Old Dominion Boat Club's women's first eight and men's quad rowed to bronze place finishes at the Head of the Occoquan (HOTO), and the club's lightweight men's and women's boats raced in the competitive Head of the Hooch in Chattanooga, Tenn.
The last races of the autumn brought the club's totals for the season to three golds and three bronzes for the men; and one gold, two silver and four bronze for the women. The women's first eight boat was the fastest team in the DMZ, said Coach Patrick Marquardt.
The club in Old Town Alexandria, which includes rowers from around the region, returned for the third time in the season to the Occoquan, fielding 13 boats. The lightweight men and women traveled south to the Chattahoochee River for a race cut short by the rough weather: Rowers went 2 kilometers instead of 5.
On the Occoquan, the men's quad won the bronze with a time of 20.41.81, behind Resilient Rowing with a time of 20.27.89 and Walt Whitman, with a time of 20:33.32.
"They've spent a total of four tough practices together in this boat over the past two weeks. After the second practice, they headed to the Head of the Schuylkill, where they had a strong performance and finished fourth out of 21. Last two practices, final race and rowed their way to a bronze medal at the HOTO," said Coach Enoch Cleckley. "I'm very proud and looking forward to the future with these boys."
Also at the HOTO, the women's first eight won a bronze, with a time of 18:59.03. Walt Whitman came in first with a time of 18:37.27, and BCC was second.
At the Head of the Hooch, the men's and women's lightweights faced rowers from all over the East Coast at the premier fall event for lightweight rowers. Lightweight men were 15th out of 33 and women were sixth out of 24. "I think the love that we have for each other makes us work harder that really showed during the race. We wanted to do well for each other," said women's coxswain Candace Goodman.
Men's Coach Peter Stramese noted that if one added practices and regattas together, the high schoolers rowed the equivalent of the distance to Toronto, Canada.
Old Dominion Boat Club, founded in 1880, supports high school rowing programs around the region by offering young rowers a chance to compete and stay in shape against adult and college teams from up and down the East Coast.
This year, the club drew rowers from TC Williams, Bishop Ireton, Washington & Lee, Wakefield, James Madison, McLean, and Maret. Many of the rowers will face each other as competitors representing their schools in the spring season in the Virginia Scholastic Rowing Association.