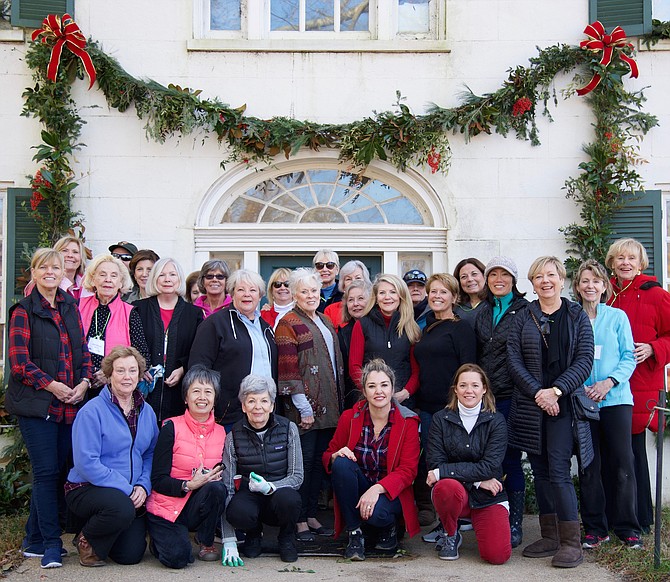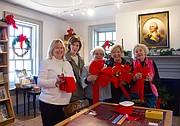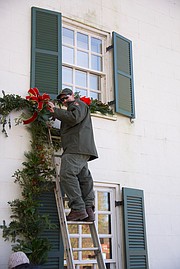 Members of the Little Farms Garden Club of Potomac gathered Monday, Dec. 3, to decorate the Tavern at Great Falls — for the 40th consecutive year.
No one at Monday's gathering was part of the original decorating party and there were vague memories on how the club began the tradition of decorating the tavern.
"We had a member of our club who was a member of the board here and she got us involved," Alvina Long said.
Long has been at Great Falls to decorate at least 15 years, she said, but then added, "no, it's been longer than that."
Club President Jean Mullan said it was one of the group's many community service projects.
And it's fun and creative.
Almost 30 of the club's members shared the work of decorating inside and out of the historic Tavern, which serves as the visitor center for the thousands of people who come to the Chesapeake and Ohio Canal National Historical Park at Great Falls.
Starting with evergreens, holly and magnolia, the women created 21 swags to place on tavern windowsills and hang from lamp posts. In addition, there were wreaths hung on doors and inside windows, fireplace and mantels to be decorated and, the piece de resistance: a 40-foot-long swag hung over and the main entrance to the tavern.
"We made it 40 feet this year in honor of the fact that this is our 40th year," member Traci Hoffman said.
The front door swag is always the last piece to go up and everyone gathered to watch as Park Ranger Mark Myers climbed a ladder to hang it from the second story window shutters, getting the curve centered and dipping just right.
"Usually when people come to the visitors center, they comment on how nice it looks," Myers said.
With the final swag hung, everyone posed for the annual photo before going inside for what Mullan called the club's "signature lunch:" sloppy joes, pizza, cole slaw and lots of home-made cookies.
"The Little Farms Garden Club of Potomac was founded in 1961 to foster friendship while sharing a common interest in the study and practice of gardening and its related arts," according to the club's Facebook page.