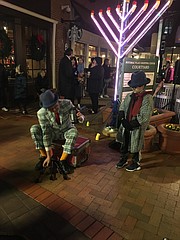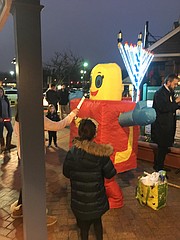 Rabbi Mendel Kaplan of Chabad Potomac Village thinks Chanukah should be a time of joy, and he wants to share that with the community.
So, on Sunday, the first night of Chanukah, Kaplan and his congregation held a Glow in the Dark Chanukah celebration at Potomac Place Shopping Center.
There was music, entertainment, latkes, donuts, chocolate "gelt," and the menorah lighting followed by sung blessings and general good cheer.
People often associate Judaism with days of awe, serious days, such as the High Holy Days, Kaplan said.
"I want to bring awareness to the holiday, to bring joy to the people," he said. "This is the message of Chanukah: always grow. Like the candles, everyday we increase in light."
As the day ended and darkness began to take over, dozens of people filled the gathering space between Starbucks and Colonial Opticians to take part in the festivities. With merry greetings, adults wished each other happy Chanukah and children ran around waiting for the celebration to begin and the donut trays to be uncovered.
Levi Kaplan, 11, who later appeared at the event dressed as "Dreidel Man," explained the story of Chanukah starting with the reign of Macedonian King Antiochus [the fourth, who ruled from 175-164 BCE].
"He decided he would make all Jews like Greeks," Levi said. "He declared nothing Jewish. But the Jews did everything in secret. The Maccabees fought the Greeks and won. It was a big miracle. They discovered the temple was all broken down, but they had a candelabra. There was no oil because the Greeks smashed [the barrels]. They found one small jug, only enough oil for one day, so they said, 'let's light it and see what happens.' It lasted eight days. It was a big miracle; that's why today we light eight branches on the menorah."
Levi added that the reason for donuts and latkes is the miracle of the oil — they are fried in oil.
As for chocolate coins, he said that is to teach children to give to charity.
After the menorah was lit, magician and juggler Bert the Nerd, performed to the delight of both children and adults.
Benjamin Abergel, 9, volunteered to act as Bert's assistant.
He said he thought the show was great and that he did a good job handing Bert various props.
"I really liked it, it was fun," he said. "I'd rate it five stars."
Bert, who is really Rich Potter, a local entertainer, said the crowd was a good one.
"They are up for a good time," he said.
Which underscores the message of Kaplan and Chanukah joy: "Each of us is an ambassador of light," he said. "To bring God's light into the world."