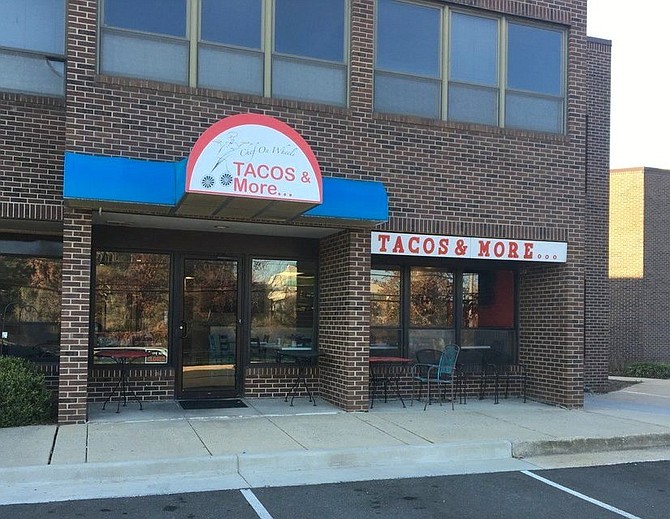 In November 2017, an orange food truck called Chef on Wheels that had been parked at a small business center on Sunset Hills Road off Michael Faraday Drive in Reston heralded something new, the opening of what has become a busy-busy eatery known as Chef on Wheels Tacos & More. This business took over the empty brick-and-mortar space of an earlier restaurant, a site that had remained empty for some time.
Suddenly, tacos became the in thing, something patrons understand who come by at lunch time. Jammed to the gills, the small eatery is feeding the hungry hordes looking for just-cooked and reasonably priced Tex-Mex/Mexican fare. Patrons can even drop by between meal hours, and find a customer or two eating in or ordering out.
Living up to the restaurant's name, the taco is the big deal here, underscoring the importance of the eatery's business. Tacos, tacos, and more tacos, and the best options are for patrons to pick their own filling. Choices include chicken, barbecued chicken, steak, ground beef, fish, vegetables, chorizo, barbecued brisket, and for an extra $1, shrimp. Two stuffed tacos cost $7, three cost $9. And adding the third is a real bargain for the hungry.
Customers can also select either a corn or a flour tortilla for their taco delight, and dig into a terrific meal. After all, tacos are so important here because the website says this: "There is no love more sincere than the love of tacos." That about says it all.
Also on the menu the chef/owner Chef Basir Ahadi offers burritos, based on flour tortillas that are the base in a bowl topped with a filling or used to wrap around the filling with rice, black beans, corn, cheese, sour cream, salsa, and the choice of protein. For those who like a mild kick, try the chorizo filling. And the chef has added a new burrito called the California burrito that comes with French fries as part of the filling.
A robust salad with protein options, organic mixed greens, cucumber, black beans, corn, and chipotle ranch dressing is a beckoning option for folks who like their salads. Other menu choices include chimichangas (a large burrito typically deep-fried) with a choice of one of three meat fillings and refried beans and rice; and a quesadilla filled with cheese or a meat choice that adds $3 to the basic charge.
If only the chef would add a sweet, like wedges of tres leches cake or Mexican wedding cakes (cookies). That would really wrap up the mealtime with an exclamation point. Note to newcomers: because of mealtime crowds, you may want to come before or after the biggest rush hours, or plan to take out your goodies.
Chef on Wheels Tacos & More, 1810 Michael Faraday Dr., Reston. Phone: 571-665-5174. https://www.chefonwheelsva.com