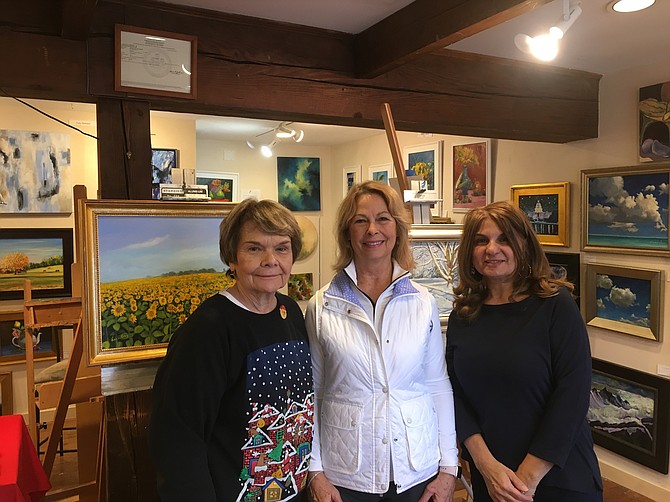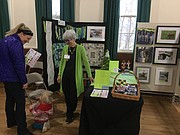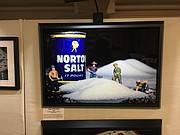 This past Saturday and Sunday, the Great Falls Holiday ArtFest took place at Great Falls Grange and Schoolhouse, as well as the Village Centre Studios. The two locations served as gallery space for more than 20 artists, all members of Great Falls Studios.
The local art collective was established in 2003, and consists of members who either live or have studio space in Great Falls.
"We do three shows a year, a spring show, the holiday show, and in October we do 'Studio Tour,'" said exhibiting photographer and GFS board member Dean Souleles.
"There's just a very eclectic group of artists, very different," continued Souleles, "We've got some national and world class painters. …And over the 7 or 8 years I've been involved, I've seen the quality of the work improve just across the board as artists get better and more mature."
Dorry Emmer, a local photographer and New Zealand transplant, who was presenting her work at Great Falls Grange, had a theme forced upon her work by mother nature.
"This year I planned several long weekends here and there," said Emmer, "and they were all chosen because they were places that were good to photograph, and I'd get there and it was raining. So I said 'my challenge is taking photographs in the rain.'"
Over in the Village Centre, the painters of "Artists on the Green" presented their broad portfolios of takes on varying mixes of realistic impressionism in what was, in a past life, a hardware store.
"We cleaned it all up, painted it, just the five of us, we got it going," said AOTG painter Mary Nesbitt, "We didn't know if the next year we'd be able to make it, and now we're actually going on our sixth year!".
"For aspiring artists: do a lot of art," said Souleles. "If you're a photographer: take pictures. Don't worry about cameras and lenses and expensive stuff. Get a camera that's good enough, and go take a lot of pictures. Develop a passion, find something that you love and do a lot of it. …If you like it, if you love it, people can see it in the work that you do."
Information on the studios and events featured in this story can be found at greatfallsstudios.com and artistsonthegreen.net.