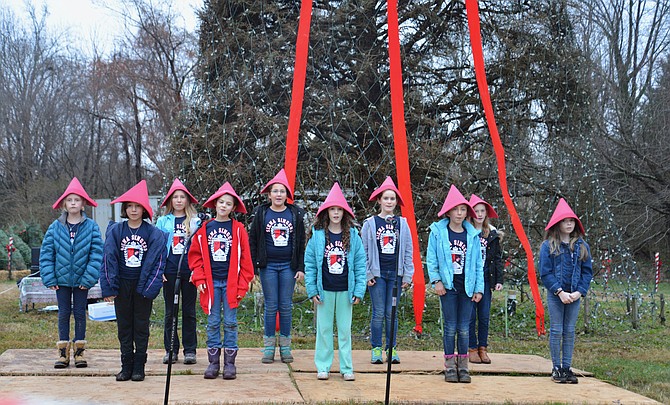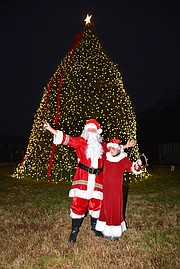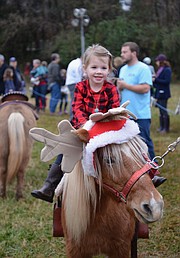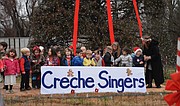 The Christmas season has arrived in Great Falls. On Sunday, Dec. 2, at 5 p.m., just at nightfall, Santa pulled up in style atop an old-fashioned fire truck to the Village at Great Falls. Accompanied by Mrs. Claus and a cheerful elf, the jolly gentleman strode across the fields to the cheers and shouts of the young and the young-at-heart to officiate the lighting of the Great Falls Christmas tree.
Once the lights were lit and Santa had made the rounds, greeting the fans who had eagerly awaited his arrival, he took his place on a comfy couch and proceeded to hear the whispered wishes of a long line of little ones.
Before Santa's appearance, the Celebrate Great Falls Foundation organizers made sure there was plenty to see and do at the 28th Annual Tree Lighting while awaiting the main attraction.
To spark the Christmas spirit, numerous children's singing groups performed some all-time carolling favorites. The Great Falls United Methodist Preschool, Village Green Day School, King's Kids Preschool, Siena Academy, and St. Francis Crèche Preschool brought smiles to the crowds with their performances, while Forestville ES Ensembles, kids from Great Falls Elementary, and the Colvin Run ES Singalongs kept things going after the tree was lit and Santa was ensconced in this temporary Great Falls digs.
A petting zoo – with some really calm and friendly furry and feathered inhabitants, attracted a lot of attention – especially the mini pig and his floppy-eared bunny cage-mate.
Kids didn't seem to mind the long line for the pony rides and their adults couldn't keep the smiles off their own faces as they snapped photos of their budding equestrians.
There was hot chocolate, cookies and popcorn in abundance, so no one went hungry while they waited in a line or for the arrival of the man-in-red…and if anyone got a bit chilled hanging about in the admittedly muddy field, there were even some fire-barrels (well roped off and supervised) to add a bit of warmth as darkness fell.
After the petting zoo closed down and the animals sent off for a well-deserved rest, the crowd gathered to watch the staging of the Live Nativity scene.
Numerous sponsors helped make this year's event a great success, including AOG Wealth Management, Costa Family & Cosmetic Dentistry, The Old Brogue & Katie's Coffee House, Great Falls Swim &Tennis Club, Great Falls Citizens Association and Great Falls Friends and Neighbors and so many more generous supporters. A full list of those to be thanked for their contributions can be seen at www.celebrategreatfalls.org