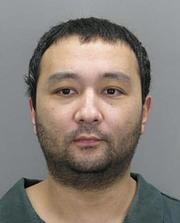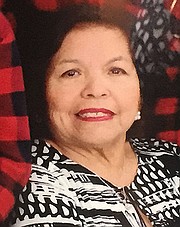 Fairfax resident Kenan Ozcan was sentenced last week to 40 years in prison for murdering an elderly Fair Oaks woman. But first, Judge Thomas Mann addressed Ozcan directly.
"Maria Ascencio lived 77 years, only to be assassinated by you," said Mann. "She leaves behind a family suffering her absence in a way you could never understand. There are good people in this world who do bad things, there are people who are just bad, and there are people who exist in darkness — and you are one of them."
The tragedy happened April 14, 2017, shortly before 10:15 a.m., near the intersection of Route 50 and Rugby Road in Fair Oaks. Maria Amaya de Ascencio was crossing Rugby Road when Ozcan, then 31, struck her with a 2016 Dodge Dart. Then, for good measure, he turned the vehicle around and ran over her again.
Ascencio died at the scene and Ozcan fled, but police captured him, a few hours later. On July 31, in Fairfax County Circuit Court, he pleaded guilty to her murder. At that time, Assistant Commonwealth's Attorney Brandon Sloane noted that several witnesses saw the incident.
"They said the impact threw [Ascencio] in the air, 10-15 feet," he said. "Then the vehicle made a U-turn and accelerated through the intersection to hit her again before fleeing north on Rugby."
A couple hours later, police were called to a Fair Oaks gym in response to a robbery. "A customer there saw the defendant behind the counter and told him he didn't belong there," said Sloane. "She tried to photograph him with her phone, and he assaulted her, took her phone and ripped her shirt."
Police arrested Ozcan there with keys to a rental car with front-end damage. Ascencio's DNA was found on its windshield wipers and undercarriage. The coroner said she died of blunt-force trauma to the head, torso and extremities.
While in jail, said Sloane, Ozcan "told his cell mate the victim's head hit his vehicle and he ran over her again to make sure she was dead. He said he just wanted to kill someone because he was upset about things in his life."
"He said he'd planned it for two days and that, initially, he wanted to kill a family — maybe a van full of children," continued Sloane. "Then he saw [Ascencio] and thought she'd be a perfect victim. He said, after he hit her, he saw her still moving, so he struck her again."
Sloane said Ozcan told his cell mate he'd "robbed people before and wanted to know what it was like to kill someone. He also said he was going to pretend he was crazy to try to beat the charge."
Before his sentencing, last Friday, Nov. 30, Sandra Chavez — the eldest of Ascencio's three daughters — explained how her mother's death affected the family. She also said her parents were married 49 years and had five grandchildren and two greatgrandchildren; her father died, three years before her mother.
"It's been very difficult losing my mother," said Chavez. "Every day, my kids and grandchildren ask, 'Where is my grandmother?' She was dedicated to her family; she came to the U.S., 20 years ago, and was a model citizen. She loved to take walks every morning, and this was a sad loss for everyone — especially the way it happened."
Ascencio was a professor, and Chavez said her death has also been hard on her students, as well as her brother and three sisters. "She dreamed of living at least 20 more years," said Chavez. "It's been difficult not having her here on Thanksgiving, Mother's Day and Christmas." Crying, she added, "Not one minute has gone by without me thinking of her."
Testifying next was Alcira Ascencio, Chavez's younger sister, speaking on behalf of herself and her twin sister in El Salvador. She said her mother always loved and protected her children and taught her grandchildren to respect education and be honest.
"She had so much heart and was a great mother," said Alcira. She also said she didn't get to see her mother after the incident. "Her face had been disfigured, and they said it was better to remember her the way she was when she was alive," she said. Then, as other relatives in the courtroom sobbed, Alcira showed the last family photo of her mother before she died and said, "We miss her very much, every day."
Afterward, defense attorney Charles Swedish called county Deputy Public Defender Andy Elders to the stand. Elders and public defender Brad Lindsay were initially assigned Ozcan's case. And when they first spoke with him, April 18, 2017, said Elders, "Everything about him was bizarre and unusual."
"His version of what happened at the gym didn't comport with reality," continued Elders. "He said he owned the gym and other buildings that his father had left him, but [it] wasn't true. He said he'd recently taken a trip to Vicksburg, Miss., and found a book that controlled what all other books say. He said one million people in China had participated in a fundraiser for his law-school education. And he repeatedly looked over his shoulder and asked us if we 'heard that' and if we were alone."
Ozcan's competency was then evaluated in Central State Hospital and he was determined stable enough to stand trial. And in jail, Dr. William Stejskal, a forensic psychologist, spoke with him three times. He said Ozcan's statements weren't linked together and bounced from topic to topic.
"He was unresponsive and would trail off and go inward — consistent with someone having auditory hallucinations," said Stejskal. "He seemed severely psychotic. He exhibited behavior consistent with a schizophrenia-affective disorder." The doctor said those types of behaviors are "difficult to fake." But since he only spent about 90 minutes total with Ozcan, Stejskal called his diagnosis "provisional."
Sloane then asked Judge Mann to give Ozcan a lengthy prison term. "We tried rehabilitation and restoration for [him] before, for two robberies, but failed. And it had catastrophic consequences for the Ascencio and Chavez families. This case is about wanton and senseless violence. It's as vicious, brutal and callous as anything I've seen."
Swedish said Ozcan's mental health began deteriorating while working on his doctorate in biology. "A mere eight months before this tragic event, he was diagnosed, for the first time, as suffering from schizophrenia. But he took his medication, on and off, because of the side effects. And while this happened, he was in the throngs of a schizophrenic event … that affected his judgment."
Then, addressing the judge as "honorable man," Ozcan stood and apologized for his crime, saying, "I never meant to harm anyone. Please forgive me and allow me to go home."
But Mann wasn't buying it and sentenced him to 40 years behind bars. "You've been committing crimes since 2003, and before, as a juvenile," he told Ozcan. "The court believes this was not an accident. You planned and even rehearsed this and wanted to know what it was like to take someone's life. I've researched and looked everywhere to find something commendatory in you. But I find there's nothing redeeming about you, and I have to protect the community."