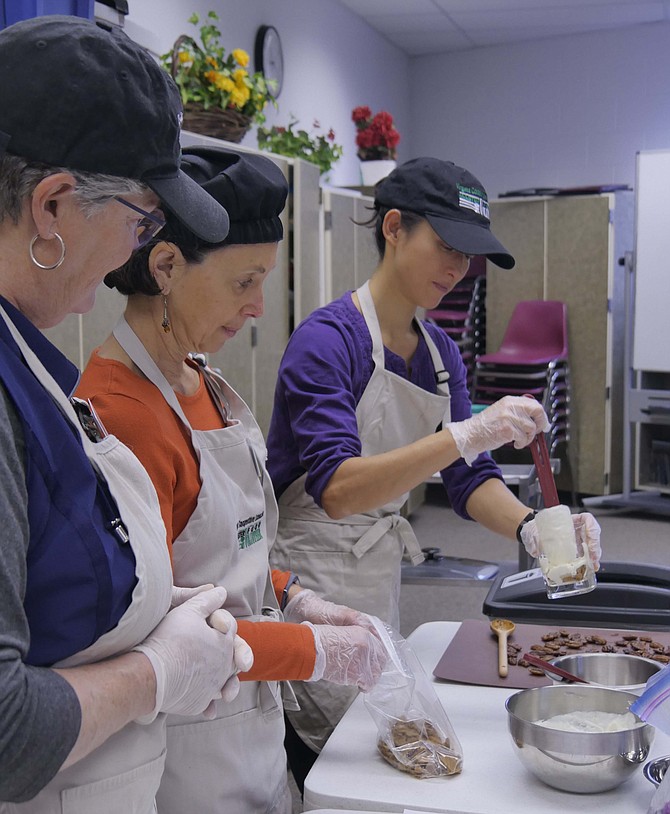 "The challenge," according to Caryn Wagner, "is to do holiday treats that are healthy and nutritious. The two (treats and healthy) don't always go together but they can." She is giving a demonstration on Holiday Sweets and Treats along with Nancy Broff and Cyndi Gadhia. Both Wagner and Broff are Master Food Volunteers with Virginia Cooperative Extension, and Gadhia is a volunteer assisting with the demonstration Dec. 4 at Langston Senior Center.
"Today we're going to make spiced nuts with just a pinch of cayenne," Wagner says. A little spicy. And a simple trifle, with yogurt instead of custard, some fruit, gingersnaps and optional candied ginger or pinch of lemon curd."
Broff shakes the pecans into an electric skillet. They decide to halve the recipe for the small group of seniors in attendance at today's demonstration. "You'll begin to smell it in a few minutes. You have to keep a close eye on the nuts because they can burn quickly." She says, "We have a nice mix of spices here — cinnamon, cumin, smoked paprika, kosher salt, optional orange peel, cayenne pepper." But she adds the cayenne is too spicy for her taste so she substitutes chili powder. "And you can substitute all kinds of spices and use any kind of nuts."
The spices cook until fragrant and then two tablespoons of butter melt and mix with the nuts. "Then we let the nuts bloom."
Broff adds some brown sugar and water to caramelize the nuts.
Gadhia stirs the nuts continuously with a large wooden spoon.
Broff says, "You need to keep it moving pretty fast." Then the nuts are dumped out onto aluminum foil to cool. "You wouldn't want to eat them now." Broff says they would be good for munching before a holiday dinner or if chopped up would make a good topping for the trifle.
Next as the nuts cool they turn to the trifle which is British and very decadent but has come to mean anything you can put in layers. Wagner says, "We're going to use two flavors that go well together — ginger and lemon." She explains that trifles are traditionally made in a glass container so that you can see the layers. "I like to do individual ones so today we'll make a trifle in a large bowl and one in an individual glass so you can see what it looks like."
Broff puts some gingersnaps in a plastic bag and firmly closes the bag, then begins crushing them by pounding with a metal bowl. "Whack, whack, no fancy tools needed. And if you're stressed, go to it."
At the other end of the table Gadhia is cutting canned pears into bite-sized pieces. "They are in extra light syrup." She sprinkles some crushed gingersnap crumbs into a glass and then adds a layer of yogurt with a dash of lemon curd, another layer of gingersnaps, then a layer of pears. A bit of crystallized ginger, some Cool Whip if you have it and Gadhia decides to finish it off with a spiced nut. "We have the recipe for the crystallized ginger if you want to make it yourself."
The large bowl of trifle is complete, and Wagner holds it up so the audience can see the layers.
Broff says you could also use holiday colors. "Sometimes I use pistachios and fresh raspberries would be very nice." In addition, if you don't like the strong taste of gingersnaps you can substitute vanilla wafers or graham crackers. "I make homemade granola and always have it around," Broff says, "so sometimes I substitute it for the gingersnaps."
Then the best part. The audience each receives a small plastic dish of spiced nuts. Appreciative comments filter around the room. Then a taste of trifle. "Hmmmmm; this is really good."
Virginia Cooperative Extension builds local relationships and collaborative partnerships helping people put scientific knowledge to work through the Commonwealth's land-grant universities.
These demonstrations are part of the series offered by the Arlington County Parks and Recreation included in their Over 55 Program offerings.