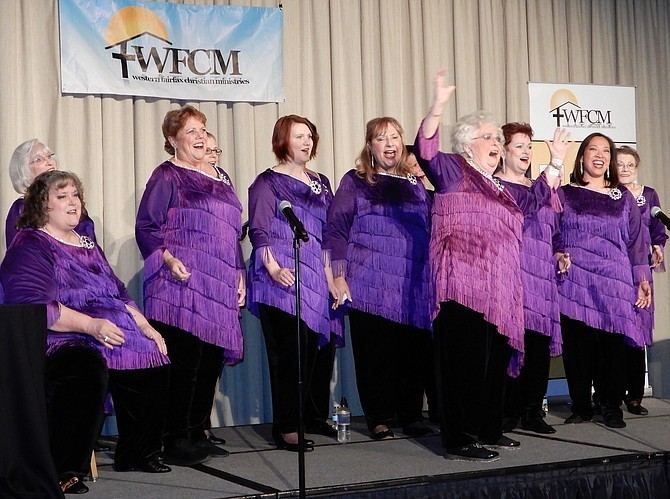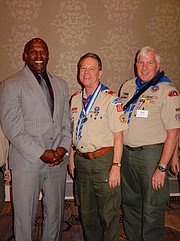 Western Fairfax Christian Ministries (WFCM) recently held its annual dinner and honored Michael Adere for his 14 years chairing the Sully District Boy Scouts' Scouting for Food program. First, though, WFCM Executive Director Rebecca Kolowé shared some of the past year's changes and successes.
Calling 2018 a year of growth and new partners, she said, "As our service area is growing and changing, so are we. But WFCM is still committed to its mission for 31 years — providing food and financial support to those at risk of hunger and homelessness."
Kolowé thanked WFCM's staff, saying the members "work tirelessly, out of a love for our community, God's creation and the clients we serve." And she praised the "many years of dedicated service" given by three, longtime members — Annette Bosley, Leah Ann Furr and Terri Kelly — who left this year.
She then noted the welcome additions of Client Services Director Grace Foust and Assistant Pantry Manager Deb Culbertson. "Grace's smiling face and calm demeanor make our clients feel comfortable, even when they're experiencing a crisis," said Kolowé. "And Deb's wisdom and light shine through, even in the most challenging circumstances."
Kolowé also expressed appreciation for some ongoing staff members, including Client Services Associate Lillian Diaz and Interim Pantry Manager Mary Patch-Johnson. Furthermore, she said, "Mary Ellen Walsh, our director of development, is responsible for many of our new business and community relationships," she said. "And as community outreach manager, Jennie Bush's relationships with the community and our partner churches continue to help us grow while providing much-needed continuity."
During FY 2018, said Kolowé, WFCM provided $160,000 in emergency financial assistance to clients. "We're thankful for our partnership with Fairfax County in helping make this a priority," she said. "Often, our assistance is the difference between someone keeping their lights on or not, or between keeping our families in their homes or [their being] evicted."
WFCM also partnered with the county and other organizations to help after the May 2 fire at the Forest Glen Senior Apartments in Centreville. "Because of the community's generosity, we were blessed to provide over $60,000 in fire-related assistance for those displaced," said Kolowé.
Proud, as well, of WFCM's food pantry, she noted that, in FY '18, it served 820 families, giving them 44,366 bags of food. "People are excited to come in and see fresh meat, fruits and vegetables and be able to choose the food for their families, instead of just being handed an already-filled bag," she said. "And they can use the money they save to provide other things for their family."
But getting through the winter wouldn't be possible, said Kolowé, without the "tireless organizing of this year's honoree for our 2018 Service Award, Michael Adere." He heads the Boy Scouts' annual Scouting for Food effort in November that collects more than 60,000 pounds of food to WFCM's pantry.
"Michael's community involvement includes school field trips, being a chaperone and booster with Centreville High's choral program, coaching youth sports, being active in his church and serving on his homeowners association's Board of Trustees," said Kolowé. "And as a Boy Scout mentor and leader, he helps the Scouts understand the values of service and citizenship."
Then during a video about the food drive, Adere explained how the Scouts sort the community-donated, nonperishable food into boxes, the way the pantry needs it. Kolowé then presented him with a limited-edition, crystal, Tiffany, Christmas ornament saying "WFCM."
Addressing the crowd, Adere first acknowledged the longtime efforts of someone else – Hondo Davids, who was Scoutmaster of Troop 893 when Adere's sons joined the troop. Davids headed Sully District's Scouting for Food and got Adere involved in it and to eventually become its chairman.
But, stressed Adere, "I am but a small part of this effort. I really want to thank the hundreds of Sully District Scouts and their families, the many other youth volunteers from Girl Scouts, local schools and church groups, and the many adult volunteers from all walks of life — including well over 1,000 WFCM staff and volunteers. They're the ones who truly make this event the success it is."
He also thanked one of his co-chairs, Peter Reyda, and Corporate Office Properties Trust for allowing the Scouts to use the parking garage at one of its Chantilly buildings for the food drive's sorting site.
"I believe Scouting for Food is one of the most important programs we do in all of Boy Scouts, throughout the country," said Adere. "It gives Scouts of all ages the opportunity to truly learn about working with great organizations, such as WFCM, and about community service and giving back to our local community.
"I tell them the food we collect makes an immediate and impactful difference in the lives of so many people in need, right here in Centreville, Chantilly, Fairfax and Clifton – people who very well could be our next-door neighbors. Thank you very much for this great honor."
'The Need Is Becoming Greater and Greater'
Redskins veteran Ken Harvey speaks at WFCM event.
Before speaking at Western Fairfax Christian Ministries' annual dinner, WFCM Board President Andrew Casteel had all the nonprofit's volunteers stand up and be recognized. Attendees applauded them loudly and enthusiastically.
"We're here tonight to show appreciation for you and to help others learn about WFCM," he said. He then presented some sobering statistics.
"One out of every 16 people in Fairfax County are living in poverty," said Casteel. "That means a family of four earning $25,000/year or less. And that's where WFCM comes in, providing food, plus emergency financial assistance for rent and utilities. We also offer teach budgeting for families in our Pathways program."
Dinner attendees then watched a video about a former client positively impacted by WFCM. Leah Martin, a divorced mom of two, young children, worked for a long time, but then found herself out of a job. Making matters worse, she'd just lost everything she owned in a fire when she became unemployed.
WFCM helped her pay an electric bill and gave her food from its pantry. And the WFCM volunteer accompanying her to the food pantry reassured Martin that things were "going to be all right."
"Working here is an extraordinary experience — seeing the feeling of relief wash over our clients' faces when we give them help," said WFCM Director of Client Services Grace Foust, during the video.
"God put us on earth as servants, and WFCM understands that," said Martin. "If you're in [WFCM Community Outreach Manager] Jennie Bush's presence for five seconds, you know what a special person she is. The staff never looked down on me — they cared and made me feel valued."
"Many people in Fairfax County work hard at $9/hour jobs, and that's not enough to feed their families," she continued. She then urged others to donate to WFCM because "people are people. We all need to be needed and we all have hearts."
Former Washington Redskins linebacker Ken Harvey, a four-time Pro-Bowler, gave the keynote speech at WFCM's dinner. "Often, in life, we're given opportunities to do something to help others," he said. "And God keeps giving us this chance."
He played 11 years in the NFL. But before that, said Harvey, he was a high-school dropout. Then someone told him about a junior college in Oakland, Calif., so he went to school there.
"I later got a scholarship to the University of California in Berkeley and played football there for two years," he said. "One time, I missed my bus home and slept on the street to experience homelessness — and I was scared to death. Sometimes, we have a hard time empathizing [with others] or knowing that fear that someone's going to kick you in the head and take your money."
Harvey began his pro football career with Arizona, playing there for six years. Still, he and his wife weren't immune to tragedy and were devastated when their firstborn child died of SIDS. "But God blessed us with two other boys," he said. Eventually, Harvey came to Washington and played five years with the Redskins until leg and shoulder injuries forced him to retire.
"I didn't know what I wanted to do, and I drifted for a while," he said. "But God's always on your side. I started reading about Moses and then started writing. We all have the ability to give. God asks, 'What's in your hand? What's your gift? I can take whatever you give Me and multiply it.'"
"And it's the same with WFCM," continued Harvey. "The need in this world is becoming greater and greater, and we have an opportunity and a responsibility to do something about it and give."