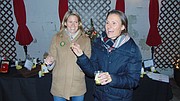 About 80 people attended the second-annual Care and Share Holiday Gathering Toy Drive for Hollin Meadows Elementary on Thursday, Dec. 6. The event was hosted by the PTA's Care and Share Committee and held at DRP Belle Haven. Guests were asked to bring an unwrapped toy, game, books, craft items, or sports equipment that will be given to children at the school. Last year's event collected enough toys for 90 children and 60 families.
"This is an overwhelming amount of toys that people have brought to us this evening," said Erin Anderson, Care and Share Committee event co-chair at Hollin Meadows. She said that in addition to the toy drive at DRP, they had other toy collections going on throughout the neighborhoods, churches, and homeowner associations in the community. There was also a 50-50 raffle and a raffle with 19 items as a fundraiser.
In attendance were Mount Vernon District Supervisor Dan Storck, Hollin Meadows Principal John Gates, as well as PTA members, teachers, staff and community members. DRP Chef Mauro Molino prepared pizza and veggie rolls, bacon and cheese croquettes, and meatballs. In addition, there was red and white wines and beer.