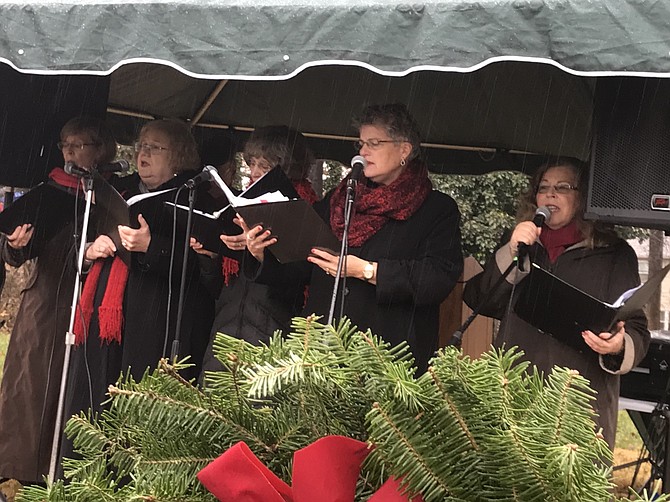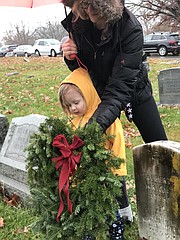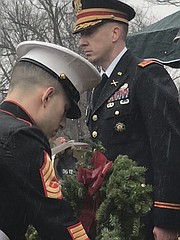 Across the country, at more than a reported 1,640 memorial sites like the one at Chestnut Grove Cemetery in the Town of Herndon, people gathered as one nation, one community to show their gratitude and respect during the National Day of Remembrance Ceremony for Wreaths Across America, said Speaker Carol Wright, Herndon Woman's Club, at the Saturday, Dec. 15, 2018 event.
Before the start of the ceremony, the Hennessa family of Reston, parents Zach, Alex and son Nolan, 3 stood in the rain. "It's an honor to be here, to remember those who served. And to teach my son the importance of giving back," said Zach Hennessa. "Frank and Kathy Deffer are Nolan's grandparents; they served in the Army."
MEMBERS OF THE GROUP within the Reston Chorale, the Bobby Pins, sang as hundreds and hundreds of individuals from the surrounding communities of Herndon, Reston, Sterling, Great Falls and more, some very young, some very old and some alone stood huddled together, silent under a sea of umbrellas in the driving rain.
"Eight hundred and twenty-three veterans are buried in Chestnut Grove Cemetery," said Carol Wright, Guest Speaker and member of the Herndon Woman's Club. Men and women who "gave their lives so that we can live in freedom and without fear. …We are here to remember the fallen, honor those who serve and teach our children the value of freedom. We shall not forget. We shall remember."
As the rain pelted down during the ceremony, the Color Guard of Boy Scout Troop 1577 presented Arms. Wright named the wreath presenters representing each branch of the Armed Forces, as well as the presenter for those taken prisoners of war and missing in action. She called out: Major Thomas Lane, US Army, Hqs. Department of Army G-8; Gunnery Sergeant Bernard Collins, US Marine Corps; Commander Gregory Vitorelli, Retired US Navy; Colonel Craig Bernhard, US Air Force Retired; Bill Wright, US Coast Guard, Base NCR; Lee Davis, United States Merchant Marines and Sergeant First Class Josh Smith, US Army Retired and his service dog, Shelby who Wright noted, "Will lay a remembrance wreath in honor of the United States servicemen and women from all branches of the service whose last known status was either Prisoner of War or Missing in Action."
FOLLOWING TAPS, Wright gave instructions to the crowd. She reminded them to securely place the wreath given to them, one per person, on the stake in front of the veteran's gravesite. "Say the veteran's name aloud and thank that veteran for their service. Remember we are not here to decorate graves. We are to remember, not their deaths but their lives."
Suzy Ledgerwood, Herndon Woman's Club confirmed via a database, veterans laid to rest at Chestnut Grove, had lived in Herndon and Reston and "from surrounding communities such as Sterling, Fairfax, Leesburg, Ashburn, Centreville, Arlington, and many others."
Sergeant Smith, US Army Retired, the serviceman who presented the wreath for POWs and MIAs said in an interview, "I'm glad to be here. It's good to give back."
On a hill, Lieutenant Colonel Philip Cordaro, US Army, stood with his son Luca, 9, who prepared to lay a wreath. "We are here to honor servicemen and women of the past, and pay our respects," Lieutenant Colonel Cordaro said.