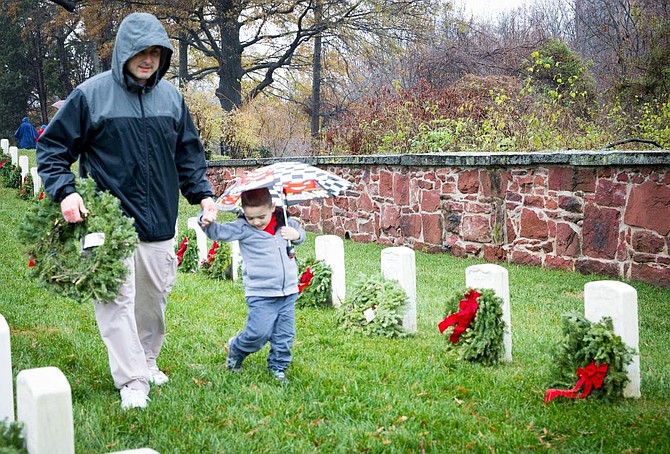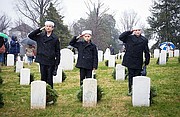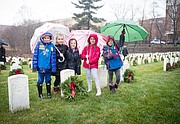 Despite a steady rain, hundreds of volunteers gathered Dec. 15 for the 27th annual Wreaths Across America tribute to veterans at Alexandria National Cemetery.
Volunteers placed wreaths at the grave of each veteran, saying the name aloud as requested by Wreaths Across America founder Morrill Worcester to "ensure that the legacy of duty, service and sacrifice of that veteran is never forgotten."
Across the region, 267,000 wreaths were laid, including 5,000 in Alexandria and more than 253,000 at Arlington National Cemetery. In all, 1.8 million graves received wreaths at 1,640 locations across the country.
A few dozen overseas locations participated in Wreaths Across America in 2018, the first year permission was granted to place wreaths at Normandy to honor those who died during World War II's D-Day invasion.
Each wreath is hand-crafted of all-American balsam and hand-tied with a red velvet bow in Columbia Falls, Maine, before being delivered to participating locations. Local sponsors of the Alexandria National Cemetery Wreaths Across America include Saint Rita's American Heritage Girls, Old Town Village and Christ Church, Mount Vernon Chapter NSDAR, Friends of Lt. Anderson/Alexandria Scouts, Boy Scouts of America Troop 841, Mount Vernon Chapter of the Military Officers Association of America, Jamestown Chapter Colonial Dames XVII Century, Saint Mary's School Girl Scouts, Junior Girl Scouts 600 Fort Hunt and Girl Scout Troop 4005.
See www.wreathsacrossamerica.org.