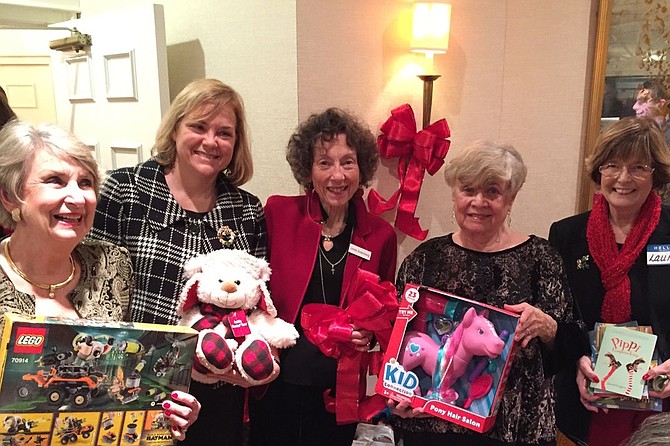 The Commonwealth Republican Women's Club (CRWC) celebrated the holiday season with former Virginia First Lady Susan Allen, installed new officers, and presented local non-profit Community Lodgings with gifts to fill Santa's sleigh.
Susan Fitzpatrick, development director, accepted the gifts on behalf of Community Lodgings and thanked CRWC for helping them accomplish their mission of helping families who are experiencing homelessness or instability to achieve independence and self-sufficiency. She noted that CRWC has been a big supporter of Community Lodgings for many years.
CRWC President Eileen Brackens presented a check to former First Lady of Virginia Susan Allen for the Virginia Women's Monument Commission. The commission is raising funds to prominently place 12 life-size statues of unrecognized women as part of its Voices from the Garden project.
Jody Rushton, National Federation of Republican Women (NFRW) president, installed officers for 2019: Eileen Brackens (president), Linda App (1st VP programs), Susie Miller (2nd VP membership), Suzanne Morrison (treasurer), Sally Linderman (corresponding secretary), and Susan Yonts-Shepard (recording secretary).
In addition to CRWC members, others in attendance included Sean Lenehan, chairman of the Alexandria Republican City Committee, and recent GOP City Council candidates Kevin Dunne and Michael Clinkscale.
Eileen Brackens and others spoke of their sadness on the death of longtime CRWC officer, Loree Gunn. Gunn was active in the leadership of both CRWC and ARCC, and had been working on organizing the evening's event. Gunn had worked in the office of Virginia's Republican Governor George Allen in the 1990s.
CRWC is the Alexandria chapter of the NFRW. See www.alexandriacrwc.org. ARCC (www.alexgop.org ) is the local branch of the national Republican Party.