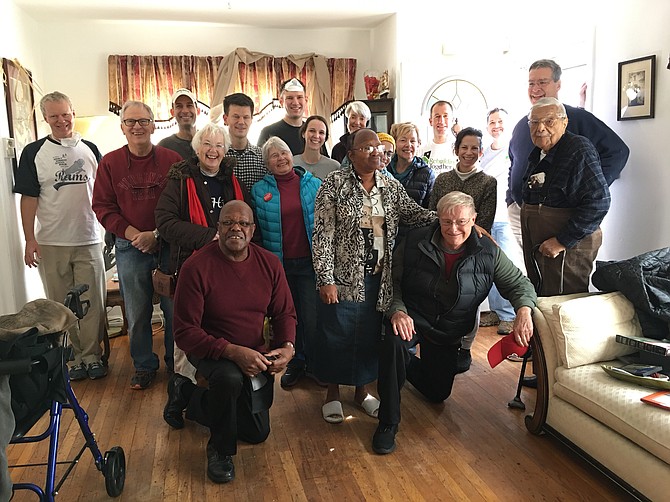 Rebuilding Together DC Alexandria began the holiday season by giving back to an Alexandria homeowner in need.
Earlier this month, volunteers from Emmanuel Episcopal Church repaired the home of Bill H., a longtime Alexandria resident. The volunteers removed the carpet in the living room, hallway, and three bedrooms; installed foam insulating tubes on exposed water lines; secured a mailbox post; installed a bi-fold door and glass window panes; and more.
Originally from North Carolina, Bill is a former truck driver who enjoys hunting and fishing. He reminisces about the rabbits, perch, and bass he caught over the years, gesturing to show the large size of one particular fish he caught.
Bill has been living in Alexandria since the 1940s. He moved into his current house in the 1950s, shortly after it was built.
"I watched every piece of it being put together," Bill said. "It's very nice here. My neighbors and I all get along well."
Now that the carpet has been removed, it is much easier for Bill to move throughout his house. He is grateful for all the repairs Rebuilding Together DC Alexandria completed in his home.
"Every one of the volunteers was nice," Bill said. "And they did a beautiful job."
This was an eventful year for Rebuilding Together DC Alexandria. This calendar year, volunteers from a variety of companies, churches, and other groups completed over 65 projects repairing the homes of low-income residents, as well as parks, schools, and other community spaces. In addition, the organization's Mod Squad, a group of highly skilled community volunteers, completed over 20 projects this calendar year.
"This was a very successful year," said Haig Paul, director of Programs at Rebuilding Together DC Alexandria. "Our volunteers did an excellent job with the repairs. Their work has been a huge help as we continue to grow and serve even more homeowners in our community."
Rebuilding Together Alexandria, now Rebuilding Together DC Alexandria, is an award-winning, mission-driven organization that creates healthy neighborhoods for residents by maintaining housing for low-income homeowners, revitalizing community spaces, and creating homeownership opportunities. Since 1986, more than 29,000 volunteers have worked on 2,200 projects, leveraging $8.8 million worth of in-kind value to Alexandria, and in 2019, we'll bring our services to DC.
We are now accepting applications from Alexandria homeowners for free home repairs. Visit www.RebuildingTogetherDCA.org or call 703-836-1021.