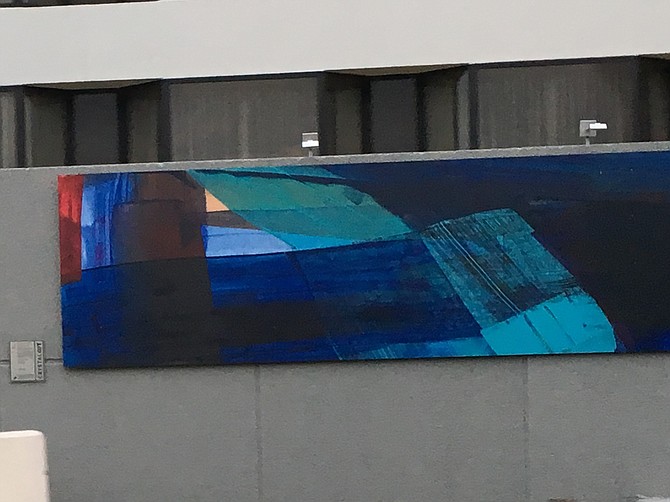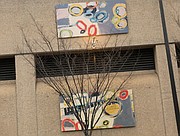 Recently selected as one of the new Amazon HQ locations, there has been renewed attention directed towards Crystal City. At first glance, it appears to be generic looking, with traditional buildings housing a mix of residences, offices and hotels. A closer look shows interesting restaurants such as Jose Andres's Jaleo and the more unusual Uyghur restaurant Queen Ammanisa. Walking through the neighborhood also reveals a wealth of artworks, giving it a vibrant feel.
In 2008, the Crystal City BID launched "Art Walls." Former President/CEO of the Crystal City BID, Angela Fox, declared "Crystal City is a gallery and the area's walls are the canvases," adding that Art Walls "leads to fun, whimsical, and interesting spaces and creates enthusiasm among Crystal City's guests, residents, and employees."
Since then, artists have brightened up the Crystal City landscape, painting walls, underpasses and garages. The collection started with three works, Radiance, Prism, and Ellipsis. It took local mosaic artist Valerie Theberge a year to create "Radiance," located on the north side of the 18th Street underpass. She painted the background and with her team assembled mosaic pieces that brighten the underpass. Opposite it is "Prism," a series of colorful panels depicting different geometric shapes by DC artist Anne Marchand. "Ellipsis," also by Marchand is a series of 12 of her abstracts set behind the walls of the Hyatt.
More recently, the DC-based No King's Collective made different murals around temporary spaces in the neighborhood. They took over parking areas slated for demolition. In 2014, they painted the Crystal Wynwood mural with colorful geometric patterns and bold letters. It was an Instagram favorite along with the more recent "Lovers" mural that took over the wall, ceiling and floor of the parking garage on 1851 Bell Street. The "Lovers" mural was a popular backdrop for engagement photos. The No King's Collective's latest mural is best seen from a bird's eye view. They painted the floor of a repurposed parking area with the words "Let's Play," mirroring the goal to see Crystal City as a fun neighborhood.
Aside from the 28 murals listed in Crystal City's "Art Walls" map, several buildings are covered with transparent mesh material in bright colors and eye-catching designs. The real estate developer JBG Smith commissioned artists Tim Doud and Adrienne Shisko to create building wraps based on their artwork. The company is also responsible for attaching colorful bikes on neighborhood walls, providing more whimsical touches to the area.
Ten years after "Art Walls" was established, Crystal City offers imaginative artwork meant to enliven its community and visitors alike.