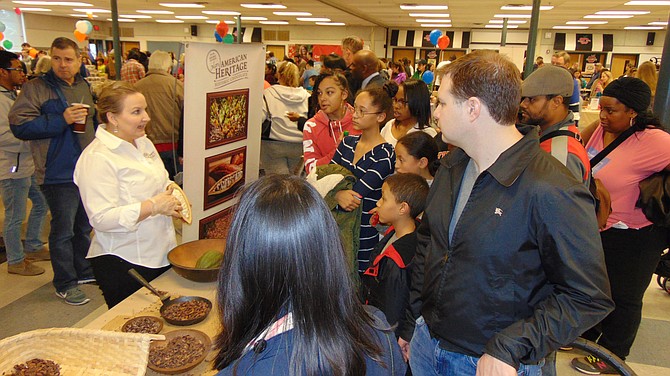 The seventh annual McLean Chocolate Festival brought out huge crowds last Sunday, Jan. 28, 2018 at McLean High School. With 19 vendors – and names like Dave's Candy Kitchen and Mike's Fudge – the event is a fund-raiser that brings in between $10,000 to $15,000 for the Rotary Club of McLean, which then gives to local charities.
"This is our biggest signature event for the community and the main thing we want to accomplish is have an event for the community, for families, for children to come out in an otherwise dead period of time – the winter time – and have a good time, in this case enjoy chocolate," said Bob Jansen, president, Rotary Club of McLean. "The other thing it does is it highlights local businesses that serve chocolate. You know the Mars Corporation has been based in McLean for years, and also to highlight Rotary and what we do."
Highlights include Colonial America chocolate making demonstrations by American Heritage, a Mars, Inc. brand. "They come up from Colonial Williamsburg where they do that demonstration especially for us here at the festival," said Jan Auerbach, committee chair of the Chocolate Festival.
Another highlight was the children's game room set up by the McLean High Interact Club, which is a subsidiary club for Rotary. "We have entertainment in there three times during the festival for a half hour. The high school students work with the younger children to play games for the whole rest of the time during the festival," she added.