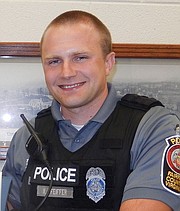 PFC Kory Pfeiffer has been selected as the December 2017 Officer of the Month for the Sully District Police Station. He was honored at the Jan. 10 meeting of the station's Citizens Advisory Committee.
Actually, it wasn't the first time he was acknowledged in this manner. He received the same accolade in July 2017 for rendering lifesaving aid to an injured person and for being instrumental in several events leading to arrests.
Sgt. Scott Routt did the writeup for Pfeiffer's most recent recognition. He wrote that, on the evening of Dec. 1, 2017, Pfeiffer was "actively engaged in proactive patrol, with a focus on locating illegal narcotics and related activity," in the Sully District. While doing so, he observed a vehicle committing several traffic infractions, prompting him to make a traffic stop of the driver.
"During the roadside interview that follows every traffic stop, PFC Pfeiffer detected an overpowering odor of marijuana emanating from the vehicle," wrote Routt. "He also learned that at least one of the [vehicle's two] occupants was a convicted felon trying to hide his identity."
As a result, both people were asked to get out of the vehicle and were pat-searched for weapons. "When the driver exited the vehicle, he handed Pfeiffer two containers of narcotics from his pocket, stating it was marijuana wax," wrote Routt. "When Pfeiffer inquired about additional narcotics in the vehicle, the driver admitted more drugs would be found in the center console."

Pfeiffer then searched the vehicle and located the additional narcotics. He also found a pistol holster and a loaded pistol magazine. "Given the two, firearm-related items close to the narcotics, Pfeiffer was suspicious that he might [also] come across a firearm," wrote Routt. "As anticipated, a well-concealed pistol was located resting atop of two masks."
Neither person affirmed knowledge of the pistol or the masks, but both were arrested and searched more thoroughly. Routt noted that "additional narcotics were located, along with a large sum of money. The situation as it unfolded gave Pfeiffer the impression the subjects were involved in narcotics distribution, as well as other criminal behavior. [So he] offered the two subjects an opportunity to speak with detectives who specialize in narcotics and major crimes."
Following the interview with these detectives, Pfeiffer charged the driver and passenger with several, firearm and narcotics offenses. "Before Pfeiffer completed his work, he learned why the driver tried so hard to hide his identity," said Routt. "It was discovered he was wanted for multiple offenses in another jurisdiction."
"Despite the overwhelming number of good and honest people in the community, there are some who are very dangerous and who are willing to undermine the quality of life we enjoy in Fairfax County and the Sully District," added Routt. "This case is a clear example of an officer making the right decisions and looking beyond the traffic stop. PFC Pfeiffer's actions in this case are commendable and worthy for recognition as the Officer of the Month for December 2017."