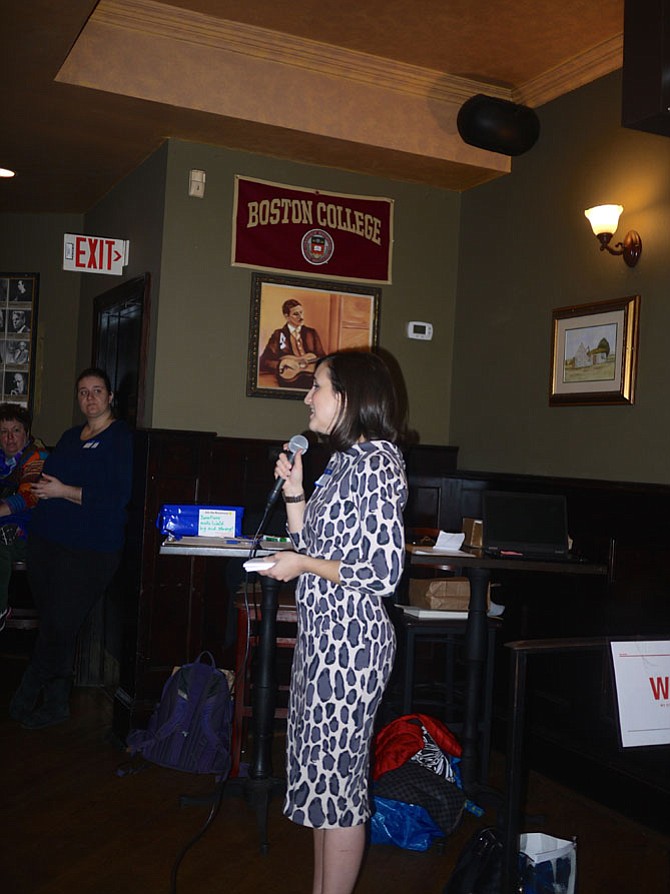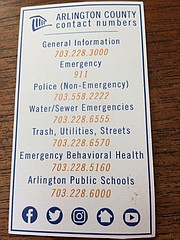 Coming on the heels of the second Women's March, a We of Action Virginia (WofAVA) meeting at Ireland's Four Corners pub (which donated the meeting space) on the evening of Jan. 23 was pumped with energy. Michaela Pond, a WofAVA leader, addressing the group, told members, "They thought they would bury us after the last women's march … they didn't realize we were seeds."
Arlington County Board Chairman Katie Cristol addressed the meeting as the featured speaker. Cristol told the group that there are a few links to things the group might be interested in checking out on the Arlington County webpage, in order to effect local change, like what role counties can play in climate change — such as updating energy consumption, such as the Commission on the Status of Women, and such as Arlingtonians for a Clean Environment.
"We want you involved," said Cristol. "Arlington has an incredible network for volunteerism." She handed out small business card-sized reminders to urge attendees to get involved. "I will be in Richmond tomorrow lobbying for dedicated funding for Metro," Cristol said. "I have a lot of confidence in Metro General Manager Paul Wiedefeld." This is a system we all depend on." Cristol said last year the county's contribution to Metro as a locality went up 330 percent.
Asked about DACA, and what Arlington is doing about it, Cristol said, "DACA (Deferred Action for Childhood Arrivals) is important to Arlington. It would represent a huge loss of potential human capital. So Arlington County has put in $100,000 into a fund for legal issues like setting up powers of attorney or other needs. Arlington County is also continuing to work on police/community relations: If the U.S. Immigration and Customs Enforcement (ICE) officer is coming to pick up people who have been pulled in for being drunk in public, is there an alternative? These people are not a danger to the public." For more information, see: https://topics.arlingtonva.us/resources-immigrants/
WofAVA addressed a host of issues on its political to-do list including lobbying to make Virginia one of the two states needed to pass the Equal Rights Amendment (ERA), which, as clarified at the meeting, is not moribund but can still be passed. The fight to ratify the ERA in Virginia has gained momentum with the current discussion of sexual harassment and gender equity. The ERA would guarantee that "Equality of rights under the law shall not be denied or abridged by the United States or by any State on account of sex." The deadline for the ERA ratification expired in 1982, but there is a legal basis for waiving the deadline. The Nevada Legislature ratified the amendment last year, and groups like Women Matter think Virginia can do the same. Several resolutions have been introduced before the 2018 General Assembly to have Virginia ratify the ERA: House Joint Resolution 2, sponsored by Del. Kaye Kory (D-Fairfax) and 14 other Democratic House members; House Joint Resolution 4, filed by Delegates Alfonso Lopez of Arlington and Chris Hurst of Blacksburg, and Senate Joint Resolution 4, introduced by Democratic Senators Scott Surovell of Fairfax and Jennifer Wexton of Loudoun County. They remain stuck in committee, according to WofAVA activists. For more information on joining WofAVA, see their website: www.wofava.org and for more information about funding for legal issues related to DACA, see: https://newsroom.arlingtonva.us/release/arlington-funds-legal-aid-for-immigrants/.