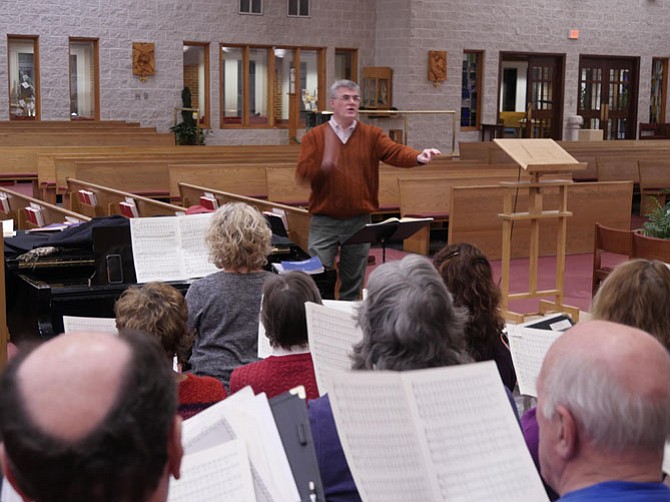 The Blessed Sacrament Festival Choir and Orchestra will perform works by Wolfgang Amadeus Mozart and Johann Sebastian Bach on Feb. 9 at 7:30 p.m. at Blessed Sacrament Catholic Church on West Braddock Road.
Six years ago, John McCrary, director of Music and Liturgy at Blessed Sacrament Catholic Church, began a special series performed on the Friday before Lent that focuses on music not often sung and offering special opportunities for the performers. Last year it was "The Prodigal Son" by Sir Arthur Sullivan (without Gilbert) that hadn't been performed in the United States for over 75 years. McCrary selected this year's music because "it is very different than last year to avoid comparison. It also suits the soloists best and I have a special liking for this music."
This year's Bach will be sung in German. The Mozart is in Latin, "but we are using the Austro-German Latin diction rather than the Italianate Latin that people are more used to. Each year varies because the choir always performs the selections in the original language. And," he added, "Bach wrote his music for instruments,and voices have to sing that type of music and it is difficult."
Celia Wexler, a member of the choir who has sung in these concerts for the last 6 years said, "The music is always demanding, and John always reminds us that singing in a language is far different than speaking it. So those of us who have learned French or German or Italian find it takes a lot of practice to sing in those languages."
McCrary says the 33-person choir has been practicing since October and has been meeting twice a week. McCrary invites members of the community to participate with the church choir, and a few join in each year for these special concerts.
Selections include Bach's Ascension Oratorio BWD 11 and a Pentecost Cantata "Erschallet ihr Lieder," BWV 172 that are not often performed as well as Mozart's "Dixit et Magnificat," KV 193 and the "Litaniae de venerabili altaris Sacramento," KV 243 which were both written while Mozart lived in Salzburg in his early 20s. McCrary explains the Litany was a forward-looking piece for Mozart at the time since it used two different violas as well as flutes which were unusual for that period.
Featured soloists include Michelle Kunz and Joshua Hong, Washington National Opera, and Philip Pickens, San Francisco Opera. Wexler said, "There is no thrill quite like singing with an orchestra of professional musicians, and serving as the choral backdrop for our superb soloists."
The community is invited and there will be a free will offering at the door.