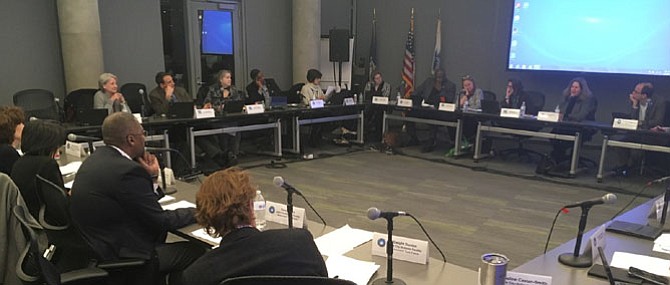 At a joint work session held Tuesday, Jan. 30, City Council and the School Board acknowledged that political leadership is required to improve their intergovernmental collaboration.
In May, following a contentious budget cycle, council established the Ad Hoc Joint City-Schools Facility Investment Task Force. Council charged the task force, consisting of "blue ribbon" experts, to recommend how to streamline certain city and schools' facility projects, and also how to improve capital planning and implementation processes. The task force's 16 final recommendations, outlined in a 54-page report and spanning two hours of discussion Tuesday, covered a lot of ground. But, throughout, they stressed the theme of "jointness:" that the city and schools need to work better together in planning and delivering core governance "capabilities" — including though not necessarily in the form of capital projects.
"It probably surprises nobody in this room that there isn't a jointness with respect to the existing process. I think that's why we ended up here," said task force member Eric Wagner Tuesday. Among other things, the task force's written report says: "Alexandria lacks a unified and distilled vision for the future;" "The CIP [10-year Capital Improvement Program] process lacks joint City and ACPS [Alexandria City Public Schools] vision, collaboration, coordination, and execution;" "The CIP process provides a fragmented view of capital needs citywide."
To rectify this, the Task Force's report recommends that, by year's end, the two governing bodies take three steps, among others.
First, the governing bodies should establish a Joint Capital Management Council (JCMC), co-chaired by the city manager and schools' superintendent. Currently each governing body oversees its own project planning. The JCMC would "serve as the glue between each entity." It would cull and recommend "which projects hold the most promise in providing capabilities for deliver[ing] services to the residents of Alexandria and … at cost, on schedule, and with the planned scope." The JCMC represents part of the task force's overall strategy "to infuse new structures and processes that will in turn impact behaviors and culture." Vice Mayor Justin Wilson believes the JCMC "the most important body" that will emerge from the task force's recommendations.
Second, the governing bodies should "initiate visioning sessions for a joint 'targeted new reality,'" or shared "strategic vision for the future," according to the task force's report. Currently, "Each entity has its own strategic plans and vision but not a document that distills them together and that would support understanding priorities and tradeoffs." A common vision would help to "clarify priorities for decision making" against a common yardstick. The lack of shared vision "impacts nearly all other recommendations put forth by the Task Force."
Third, the governing bodies should begin developing a joint facilities master plan. This plan would serve "as the road map for reaching Alexandria's targeted new reality" and "provide ongoing context and guidance to the CIP." Alexandria is a small, enclosed city with no possibility of geographical expansion. City officials can reasonably forecast "what population density we could absorb," said Task Force member Elliot Branch. "There is no reason that we can't establish at least a working set of assumptions about how the city will develop." These can inform the total set of capabilities that citizens will ultimately require. The schools' adopted CIP already presumes that such a master planning process will occur.
Several other task force recommendations also relate to jointness: consider the CIP as a "citywide portfolio" of capability delivery, rather than focusing on individual projects; standardize the criteria for evaluating the condition of capital assets; consolidate design guidelines and construction standards; use the same equipment maintenance schedule, tracking software and other standard operating procedures related to construction and asset management.
Task Force member Marshall Cook asked the elected officials: "What do you think is the biggest barrier to accomplish our recommendation of jointness?"
"Political will," said Councilman John Chapman. "Some of what was discussed here has been discussed by individuals around this table and in the community."
For example, last March, before the task force's advent, School Board member Karen Graf suggested creating "a whole-city committee" and "total city strategic plan."
"It's just a matter of folks [applying] the political will to get it done; to pull people together; to say, this is the way forward and move in that direction," said Chapman. Though he used the term "political will" broadly in his remarks, he said: "I know it is up to us."
Responding to a question from School Board member Bill Campbell about whether there might be constitutional or other legal barriers to jointness, Task Force Chair Lynn Hampton replied: "There's no prohibition [against] volunteering to work together." As previously reported, other Virginia jurisdictions already utilize various joint practices and structures: Prince William County has a Joint County/School Capital Process Team; Chesterfield County has a jointly staffed Audit and Finance Committee; James City County's Comprehensive Plan addresses both county and school facilities, and their planning commission prioritizes both entities' projects together according to common criteria.
Visit the city's web site to access materials related to the task force, including its final report.