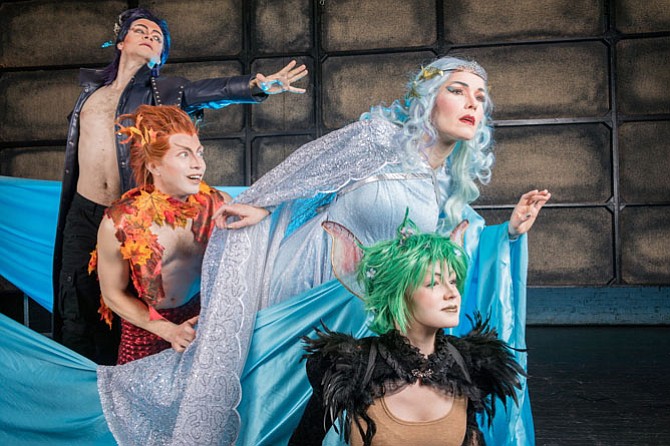 Where and When
Virginia Opera presents "A Midsummer Night's Dream" at George Mason University Center for the Arts, 440 University Drive, Fairfax. Performances: Saturday, Feb. 17, at 8 p.m. and Sunday, Feb. 18 at 2 p.m. Tickets: $54, $90 and $110. Call 888-945-2468 or visit https://cfa.gmu.edu/">https://cfa.gmu.edu/. Note: Sung in English with projected English supertitles. Pre-performance discussion 45 minutes before the curtain with "Dr. Opera" Glenn Winters.
A fanciful world where love propelled by music can sometimes be quite mad is arriving at the Center for the Arts courtesy of Virginia Opera. An operatic tale sung in English, "A Midsummer Night's Dream" by Benjamin Britten is a vivid retelling of William Shakespeare's play about magic potions, mix-ups, sprites and spirits, along with a very special donkey called Bottom, a trickster named Puck and a group of humorous folk named "Rude Mechanicals."
As an opera, "A Midsummer Night's Dream" is a production that through music and singing blurs the lines between fantasy and reality. Britten's inventive, enchanting score was composed in 1960. It is one of the most produced operas in the past decades. Britten's musical composition can be romantic for its entangled love stores, ethereal for its vivid night-time forest fantasy, and comic whenever the Rude Mechanicals appear in their spotlight.
In an interview, "Midsummer's" stage director Michael Shell suggested audiences will know the opera from its Shakespearean roots. "This opera uses recognizable text and lines from the original Shakespeare play, though in slightly different order."
The Virginia Opera production of "Midsummer" will use the theater world as its setting. It is a place where reality and fantasy collide. "The journey these characters take in 'Midsummer' explores one of the things that sets humans apart from all other animals; our capacity to love," added Shell. "Love is blind. Love is irrational and can frustrate. Yet the 'Midsummer' characters seek it, desire it, and go after it with reckless abandon in scenes that can be silly and ridiculous about love as a driving force."
The opera has many physical movement qualities. The performers do more than stand and deliver. The cast includes several returning Virginia Opera veterans. Soprano Heather Buck sings the role of Tytania, the Queen of the Fairies. Bass-baritone Matthew Burns has the comic role of Bottom and former Virginia Opera Herndon Foundation Emerging Artists, David Blalock and Kristen Choi return to sing the roles of Lysander and Hermia, respectively.
Joining this production will be 16 students from the Governor's School for the Arts Vocal Music Department, under the direction of Alan Fischer and Stephen Z. Cook.
Virginia Opera's "A Midsummer Night's Dream" will be anything but pastoral. It will be "exhilarating and lively, far from staid. Come see for yourself and perhaps recognize your own younger self in love," added Shell. Consider yourself invited.