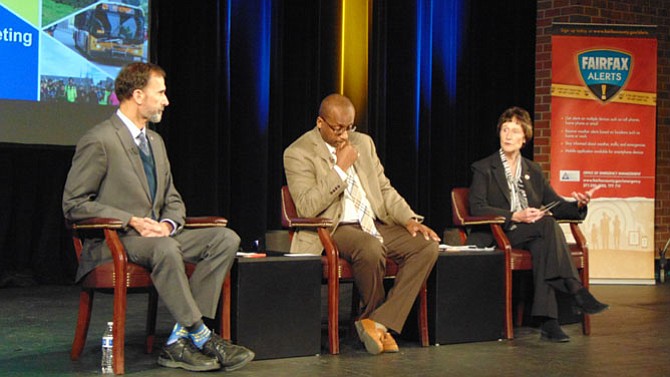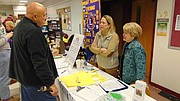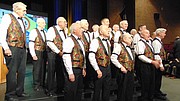 With approximately 400 residents attending and more than 500 watching on live streaming channels, this annual Mount Vernon District Town Meeting was the most viewed Town Meeting in 31 years.
The morning began with the Exhibit Hall packed with 70 exhibitors, where visitors learned about and engaged with community organizations and county agencies.
The formal part of the Saturday, Feb. 3, meeting, held at Mount Vernon High School, began with the Harmony Heritage Singers entertaining all with renditions of patriotic songs. Cub Scouts Canon and Christian Kurth of Alexandria from Belle View Elementary School led the assembly in the Pledge of Allegiance, with the Mount Vernon High School Marine Corps JROTC Color Guard presenting the colors.
"We have five words that I think describe Mount Vernon District to a tee," said Mount Vernon District Supervisor Dan Storck in addressing the crowd. "These are the core five we believe truly encompass and capture the key part of what we think we bring together as a community. First off, we have scenic beauty, diversity, history, hospitality, and finally, civic activism," he said.
Storck, together with former Supervisor Gerry Hyland, honored Mount Vernon District Planning Commissioner Earl Flanagan, who is retiring in April after 30 years on the job. A meeting room will be named after Flanagan at the Mount Vernon Government Center.
Storck spoke about his vision for improving the quality of life for all Mount Vernon residents, while outlining his 2017 accomplishments and sharing his focus for 2018. His presentation included the following statistics: that he received 25,000-plus emails; held 850-plus meetings; and had 5,000-plus visitors to his office.
"Destination Mount Vernon is part of our theme. More and more people are moving to Mount Vernon and we are seeing tourism is up in Mount Vernon Estate, and I know it's up at many other sites in our area," he said.
"We also have tremendous amounts of public investments that are starting to come into Mount Vernon. Just in the last two years, we've had almost $200 million in public investment, and that doesn't come close to the private investment commitments that were made. We are pleased with the direction we are going," he said.
Storck spoke of Mount Vernon's challenges like opioid addiction, homelessness, and airplane noises. But he also mentioned its wonders like the Potomac River, Mason Neck, recreation, and other special places in the community.
Some of the local dignitaries in the audience included Board of Supervisors Chairman Sharon Bulova, U.S. Rep. Gerry Connolly, Schools Superintendent Scott S. Brabrand, School Board member Ilryong Moon, Lee District Supervisor Jeff McKay, Chief of Police Col. Edwin C. Roessler Jr., Del. Kathy Tran, and Del. Paul Krizek.
Next to speak was Bulova who called Mount Vernon her first home.
She told the story about community engagement with the construction of the Burke VRE Station (Virginia Railway Express) – and how the Burke Centre parking garage got built in 1992. She talked about how Burke residents hated the design for the garage at first, but after participating in a community task force, how their opinions changed.
"I truly believe that without community engagement, without involving and including the community in the things that we are doing, people do not feel that they are part of their government, the part that's really important that you reach out to folks — so they have the opportunity to work with us," she said.
She said residents were able to redesign the Burke garage so it was smaller and more attractive. They redesigned it in a way that saved a softball field and a farmer's market to their liking.
"It really tells the story of how important community engagement is, so what could have been a negative turned out to be not just a garage was better, but a community process had really forged a great culture within the community that had been engaged," she said. "They felt good about their government; they felt good about the community; and they felt that they were part of making things happen."
Speaking at his 16th or 17th Town Meeting, Connolly provided updates on the federal government and encouraged citizens to actively engage in preserving their democracy.
"Republicans and Democrats have always worked for the betterment of our civic life in Fairfax County. On the Board of Supervisors, we never cared whether you had an "R" or a "D" after your name. If a particular area was your area of expertise, and that's what you wanted to do, you became chair. We thought everyone's talent needed to be put in the service of the citizens. And that's how it should work at the federal level too, but unfortunately it does not," he said.
New County Executive Bryan Hill introduced himself and his family to the community, then shared his vision for the future of Fairfax County. Mount Vernon District School Board Member Karen Corbett Sanders highlighted the significant accomplishments of Mount Vernon District students and informed those assembled about several new school programs. New School Superintendent Scott Brabrand shared his goals to increase teacher compensation and ensure all Fairfax County schools receive full accreditation.
In a Q&A session, audience members could ask questions of the speakers and receive direct responses. For the finale, Storck entertained the audience with a virtual boating, driving and flying tour of the district, highlighting changes throughout the past year and major improvements coming in the future.
Storck concluded the Town Meeting by thanking those in attendance, adding: "The more our citizens engage with their community and local government, the stronger our bonds will be and the greater the quality of life will be for all Mount Vernon residents."