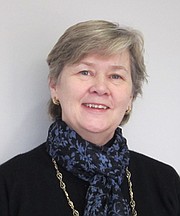 Retirement can be a wonderful time of life. There are so many opportunities to try new things, visit exciting destinations, and spend more time with family and friends. It might even be a time to find a new career or volunteer with a cause that is meaningful. Often, it can be hard to decide which thing to do first, or where to find out what options are available in our community. Luckily, Senior Services of Alexandria's February Speaker Series will help you discover some of the many choices for Alexandria's older residents.
A great place to start is with Volunteer Alexandria. They will be discussing how to use their resources to easily find a variety of volunteer opportunities, including many geared toward seniors. You will also hear from the city's Office of Historic Alexandria about all the fun and interesting volunteer jobs they offer, including museum docents and research projects related to the many local museums in our town. If you enjoy the outdoors, the Virginia Cooperative Extension might be a perfect fit. They will share information about their Master Gardner and Naturalists programs as well as how you can help other seniors make their homes more energy efficient.
Volunteering can give new meaning to your life, and make a huge difference to non-profit organizations and the people they serve. It is a win-win for everyone. We are fortunate to live in Alexandria, a city that is rich with volunteering opportunities.
We'll also be talking about ways to discover new employment options for older adults. AARP will share information about opportunities for seniors who may want to work longer, or perhaps are interested in part-time employment in an area that is meaningful to the community. There will be a demonstration of AARP's online database of employment opportunities. A terrific local resource, Alexandria's Workforce Development Center, will be on hand to share details about the many workshops they offer that are geared to the more experienced worker, including resume writing, and how to ace the interview. WDC serves as a matchmaker for local businesses and job seekers, and can offer personal support and online resources.
Be sure to register today for this exciting event, which will take place on Wednesday, Feb. 21, 9:30 a.m.-noon at the Beatley Central Library, 5005 Duke Street in Alexandria. It is a free event with light refreshments. To register go to seniorservicesalex.org or call 703-836-4414, ext. 110.