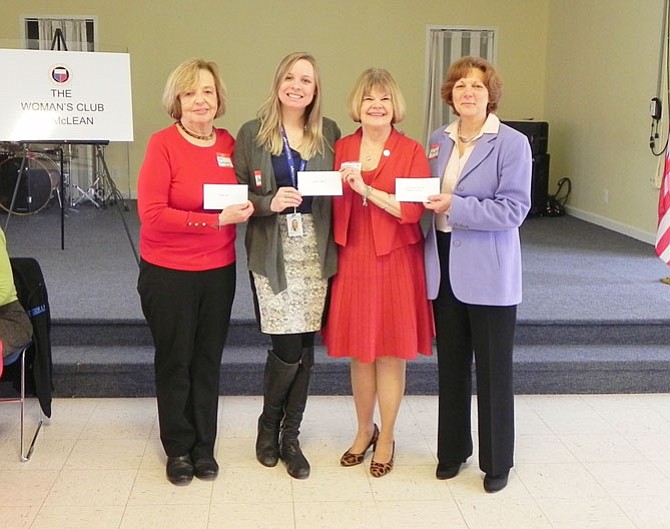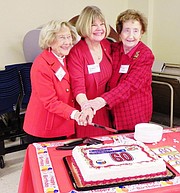 On Tuesday, Feb.6, 2018, The Woman's Club of McLean marked the 60th year of its founding, in 1958. To celebrate, the club presented a check for $2,000 to representatives of each of three McLean charities at its monthly meeting: Amylyn Verrone, board member at Capital Caring hospice; Renee Boyle, development director for Falls Church – McLean Children's Center; and Carol Morningham, volunteer coordinator for Share Inc.
Community service and support have always been the principal missions of the club. They are the basis for the club's annual Holiday Homes Tour, its main fundraiser, whose 51st anniversary was celebrated in 2017. In recent years, a separate fundraiser in the form of a boutique, or marketplace, has also accompanied the tour.
The club was organized on Feb. 4, 1958, with 39 charter members. It received its charter from the Virginia Federation of Woman's Clubs on March 31, 1958, and on April 18 of that year it became part of the General Federation of Woman's Clubs.
Since 1966, the club has donated well over $1,000,000 to local charities and nonprofits. This has been made possible not only by the club members but by other volunteers, participants and supporters. Current beneficiaries include Second Story (formerly Alternative House), Fisher House, the Wounded Warrior Program, Capital Caring, Share Inc., the McLean Project for the Arts and the McLean Volunteer Fire Department. Scholarships and other education awards are also made by the club.
For more information on The Woman's Club of McLean, including membership and activities, visit its website, www.mcleanwomansclub.org.