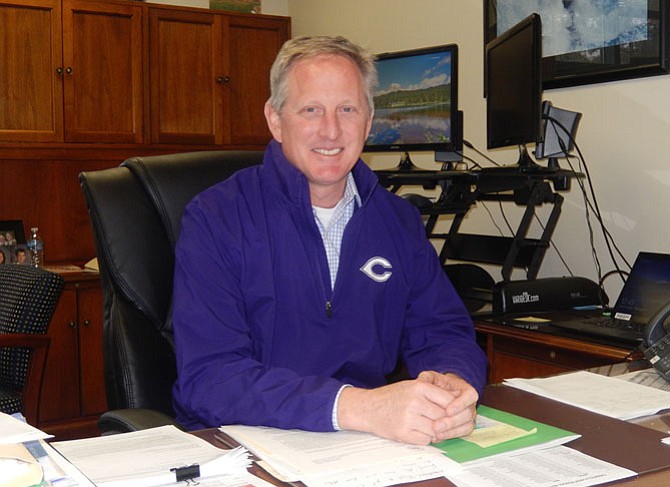 Growing up in Miami, Scott Poole never thought about becoming a teacher or principal. But all that changed when he attended Hampden-Sydney College in Virginia.
Not only did he obtain a bachelor's in economics, he also found his calling. "My experience there was instrumental in my becoming a principal," he said. "Their outstanding educators inspired me and motivated me to learn, and I wanted to do that for other people."
Now Chantilly High's new principal, Poole received his master's in education from GWU and began teaching social studies in 1992 at Cooper Middle School. He later taught AP Government at Langley High while earning his Ph.D. in Educational Leadership and Public Administration from GMU.

Moving to administration, he became assistant principal at Lanier Middle in 2002 and then served as a subschool principal at Centreville High. Afterward, he spent nine years as Lanier Middle School's principal before taking over the reins at Woodson High from 2015 until October 2017, when he started at Chantilly. (Former principal, Teresa Johnson, became assistant superintendent for FCPS' Department of Special Services).
For Poole, it also meant coming home, since he and his family have lived in Chantilly for 17 years. Wife Christy is a Spanish teacher and department chair at Franklin Middle, daughter Caroline is a Chantilly High freshman and son Jake is a fifth-grader at Lees Corner Elementary.
"I feel very fortunate to be here," said Poole. "It's kind of a dream job because I've served kids in FCPS for 25 years, so I couldn't pass up the opportunity to be principal of the school my daughter attends. And it's innately appealing to serve the kids in the community where I live, so it motivates me even more to try to do the best I can."
A former CYA girls' lacrosse coach, he said it's also fun "to walk the halls at Chantilly and see kids I used to coach, help them grow and help set them up for success." He even discovered familiar faces among the teachers. He taught social studies at Langley to Choral Director Evan Ayars and math teacher Craig Primus; and science teacher Allison Prell is the daughter of a Langley colleague.
At Chantilly, Poole wants to share the message that "different students take off, hit their stride, find their passion and accelerate in their motivation and learning at different times. It happens when they find something they're drawn to. You need to give kids encouragement and hope they find what really inspires them. My role is to give them as many opportunities to be successful as I can."
He also believes that, at Chantilly, "There's a route to success for everybody." That's because, besides the regular high school preparing graduates for college, there's the Academy offering career and technical training for other paths, plus the military, too. So, said Poole, "I think you'd be hard-pressed to find a place that offers as many programs and opportunities."
For example, at a Hair Cuttery, he recently met a barber who told him she'd completed her cosmetology certification at the Chantilly Academy, gotten a job immediately and was using her earnings to put herself through GMU. And he's now begun a program called Recent Student Successes.
"Teachers and staff members nominate current students who've shown recent improvement and growth in academics, behavior or citizenship," explained Poole. "All these students then get certificates, and I send a weekly message to the parent community telling what they did. Last week we honored 12 students."
One of them was Joshua Gray-Pitcock, a student with special needs, who works with the school's Secondary Transitions for Employment (STEP) program. "We have a partnership with the Metropolitan Washington Airports Authority, and he had an unpaid internship at Dulles Airport at LSG Sky Chefs, learning basic skills," said Poole. "He did such a good job, they hired him part time at a parking company at the airport."
Poole also praised the efforts of Academy students Caleb Mitchell and Christopher Wolf, who are studying to become firefighters. While driving last Monday, Feb. 5, they stopped at Sully and Walney roads to help a woman whose car was on fire. They kept other motorists away and got the woman to safety.
"Students like these illustrate why Chantilly is so special," said Poole. "There's a positive, school culture among students and staff, and a lot of good things are happening here. So first and foremost, I want to build on the things that are working well."
He's already met with every department, listened to what their representatives had to say and got to know the staff, programs and initiatives already in place. And while pleased with the positives and planning to honor "the traditions and all the good people working here," he said it's always important for students and staff to keep growing.
Poole is also trying to improve the communication between the school and home. So each Friday, he sends parents an email. Besides relaying school news and Recent Student Successes, it enables him to address issues of concern. These include, for example, the increase in student anxiety and what parents can do to help, as well as the dangers of vaping and its rise across the whole county.
"It's to keep parents informed and elicit their involvement when needed," said Poole. "It also tells them what we're doing and why. And moving forward, I want to find out better ways of listening to the community and finding out students' and parents' needs — and responding to them."
Chantilly's enrollment is some 2,700 students, and Poole said the challenge of running a big school is "really staying in touch and never losing sight that what happens in the classroom is the most important. The daily interaction between students and teachers and keeping students achieving is what matters most. Even though I'm an administrator, I still see things from a teacher's perspective. I'm still trying to teach kids to be better people, make better decisions and make the most of their opportunities."
His greatest satisfaction, said Poole, is "Anytime I see students excel — especially those who overcome obstacles and challenges to succeed. There's nothing better. The relationships you form with students are also gratifying. At graduation, when you know what the kids have been through to get there, and what they've achieved, it's a very special experience."