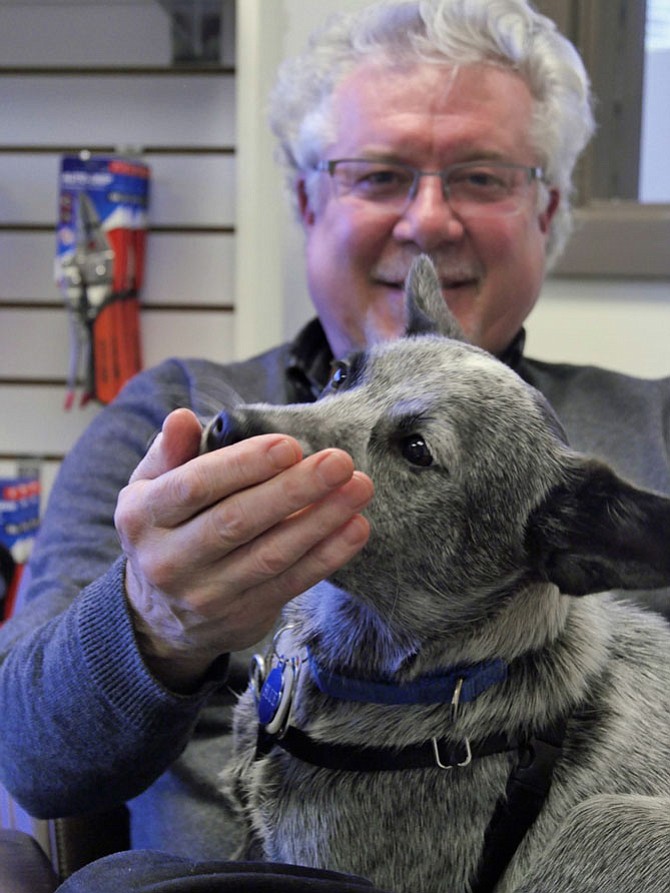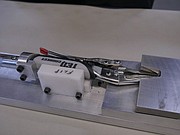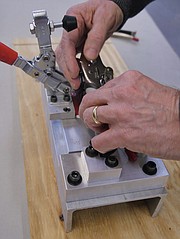 A seven-month-old puppy from the shelter bounds to the wicker gate with a welcoming yap for the visitor at Auto-Grip at Alban Station Court in Springfield. Gerry Cooper, from Alexandria, is vice chairman of the company. He says he has partnered the last four years with David Heiby, current president and CEO, but has 52 years of history in tools. Auto-Grip specializes in innovative hand tools.
Cooper says after 20 years with Stanley Tools in the U.S., he spent 15 years with Stanley Tools in the Pacific Rim and then 17 years "with myself. My father and grandfather worked for Stanley Tools so I am a third generation." Now he says his son has taken over his Asia Tech Source business in Taiwan so there are four generations.
Cooper points to a display of pliers from 1921 to the development of the Auto-Grip in 2016. He says, "Tim Peterson, a blacksmith in Nebraska, tried to invent what we have in the Auto-Grip that would eliminate the screw but he died in 1962." Peterson left his drawings in a box and a man from Phoenix completed the work but he had to find someone who could market it worldwide. "So they found us in 2003."
He says the advantage is that the Auto-Grip is a groove joint plier that you use with one hand. Auto-Grip locking pliers have a patented locking mechanism allowing them to quickly self adjust and lock on to thick and thin objects without the need to turn a knob. "You can see the advantage for a plumber working in a dark space with a flashlight in one hand." And he adds that it works much faster, which is important for auto mechanics, carpenters and plumbers who use it every day to make a living.
Copper and Heiby sit poring through the March issue of Popular Mechanics looking at the competition and for ideas. For instance, he pulls out the auto blade which is an improved utility knife. "You know how the edges of the blade wear out? You just depress this little red button and out comes a new one." He says, "You can store five of these blades."
A small warehouse space is located in the back of the office where employees take the raw materials from China and use specially designed tooling to put the grip on the handle and insert the cable ties on the back of the pliers. "Speed is important. She can finish one of these in 40 seconds." Heiby adds that some of their employees are brain injury survivors. "We like to give back to the community."
Cooper says he and Heiby have both turned up the music and worked in the backroom to help get out the orders when they had a deadline. "We just sold 90,000 to Auto Advantage and CarQuest including the 8-inch that most mechanics use, the 6-inch little one and the needlepoint. It was an excellent sale."
Cooper points out the difference between doing business in China and the U.S. Is "the business ethic, a huge difference." He says this is why when you pick up a newspaper and read there was a factory fire and 20 people jumped out of windows and the factory was destroyed, you ask how that could happen. "Up until 10 years ago it happened all the time. But U.S. companies didn't want to read about themselves so they started bringing about changes in air and water pollution, OSHA protections, fire safety."
When Cooper isn't at his office in Springfield or negotiating contracts in China, he is at home at Harbor Place in Alexandria or volunteering to deliver Meals on Wheels twice a month with his wife. He also spends Thursday mornings at Old Presbyterian Meeting House serving breakfast to about 70 homeless people. "I'm board chair of Senior Services of Alexandria. We raise funds from donors to provide free services to seniors such as transportation to doctor's appointments, friendly visitors who chat with people who request a visit, and groceries to go every two weeks."
It's time for lunch and Blue sits obediently by waiting for a bite of a turkey sandwich. "He's a mooch," Heiby's wife explains.