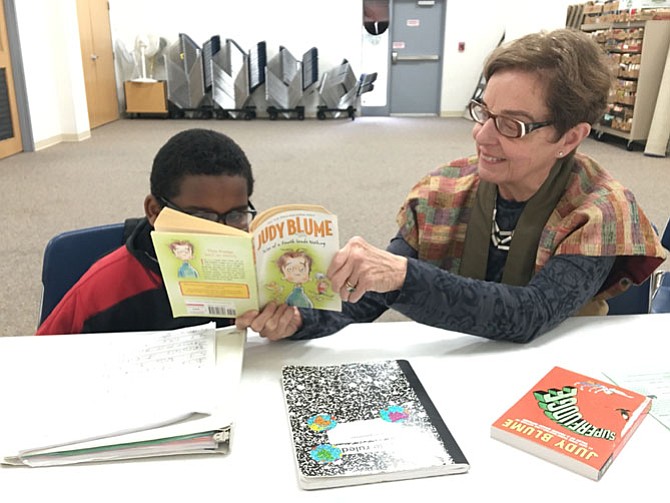 From student, Karim:
I have been working with Ms. Gillie since I was in third grade. She helps me with reading and we read funny books. We started reading picture books and are now reading chapter books. The last book we read was "Wonder" and then went to watch the movie. I think the movie was better.
Ms. Gillie helps me read and has helped me become a better student. I enjoy it when we play board games. I win every time! I enjoy spending time with Ms. Gillie because she's nice and she helps me all the time. She's the best!
From Tutor/Mentor, Gillie:
Karim and I began working together in the Fall of 2017, when he was in third grade. Since then we've practiced vocabulary and read "Wonder" together. After reading the book, Karim and I went to see the movie. He has beaten me too many times to count at Wright to Read's board game, to which I add new words for him to learn and practice. He has read 20 books since we began, progressing from simple picture stories to chapter books.

Karim's family gives him — and me — strong support, and it's a pleasure to know them. I've joined Karim's mother at school conferences. Karim, his mother and I went to the Air & Space Museum. Karim is a smart, curious, engaging boy and I'm lucky to be his tutor.
Wright to Read is outstanding! It makes tutoring really effective, supporting both tutors and students. Students' reading skills get an initial professional assessment, then annual follow-ups. The office has a wealth of reading materials, from which Wright to Read's Program Director, Luisa Reyes, can pick just the right book for a tutee. Tutors get a thorough initial training and are supplied with excellent teaching materials. Without all that support, I couldn't begin to tutor effectively and would quickly get frustrated; instead, I'm energized.
Wright to Read, a program of The Campagna Center, is a member of the Alexandria Mentoring Partnership (AMP). AMP was created in 2006 to ensure that quality mentors and mentor programs are available for Alexandria's youth and young adults in need. To learn more about Wright to Read, visit: https://www.campagnacenter.org/programs/elementary-level or to learn more about AMP, visit: http://www.alexandriava.gov/Mentoring.