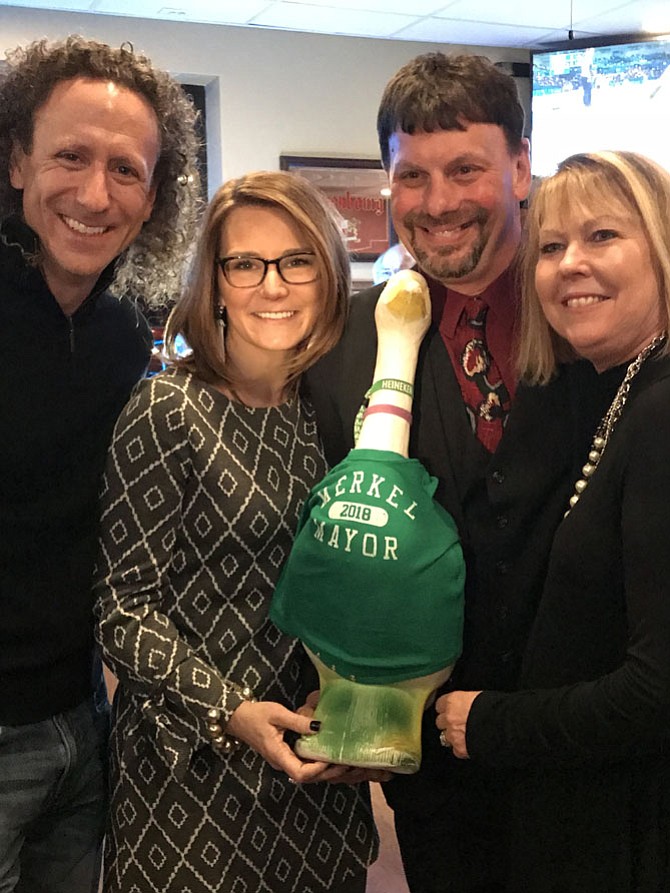 Mayor Lisa C. Merkel of Herndon announced on Saturday, Feb. 17, her intention to seek a fourth consecutive term for the office of Mayor of the Town of Herndon. She did so during the Jimmy's Old Town Tavern Mayor's Opening Reception, held by Jimmy Cirrito and his wife, Maureen. The reception was a "thank you gathering" for individuals and businesses to celebrate the opening of The Buffalo Wing and the new Beer Garden at Jimmy's Old Town Tavern.
With a crowd of approximately 75 people looking on, Jimmy Cirrito invited Merkel to take the microphone at which time Merkel announced her intention to seek public office as Mayor of the Town of Herndon for her fourth term.
Afterwards, Merkel said, "It has been my honor to serve as Mayor since 2012, and am grateful for the trust that Herndon has placed in me."
According to the Virginia Board of Elections, at the November 2016 election, candidate Merkel received 5,928 votes, 68 percent of votes cast while her challenger received 2,786 votes, 32 percent, resulting in Merkel being re-elected as Mayor for her third consecutive term.
As of Feb. 19, 2018, no other candidate had publicly announced the intention of running for Mayor in the Town of Herndon. However, the State Board of Election reports the Declaration of Candidacy Form Filing Deadline for completed Petitions is June 12, 2018.
During her terms as Mayor, Merkel has been a key player and avid advocate for Herndon's long-awaited downtown redevelopment. Merkel said, "My primary focus every day has been to maintain our small town feel while achieving the town's decades-long vision of a downtown development…full of activity, the arts, and great places to meet your neighbors for dinner and other events. We are finally ready to break ground on our downtown, and I hope to have the opportunity to see it through."
The tagline on Merkel's twitter account, @MayorLisaMerkel, is "Preserving our History. Shaping our Future. I'm honored to serve as your Mayor. Stay in touch!"
The Town of Herndon is the third largest town in the Commonwealth of Virginia and home to more than 23,000 residents. As Mayor, Merkel is the Chief Executive Officer of the Town, and her power and authority of the office are derived from the Town Charter and the general laws of the Commonwealth of Virginia. Merkel presides over Town Council and has the same right to speak and vote as the other members. According to the town website, the Mayor and the six councilmembers of the Herndon Town Council. "...establishes Town government policy, acts on local resolutions and ordinances, sets tax rates, approves the annual Town budget, appoints members to the town's boards, and provides policy guidance for the Town Manager."