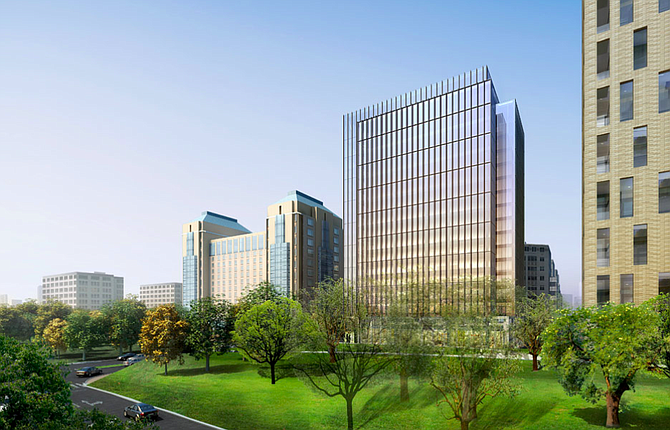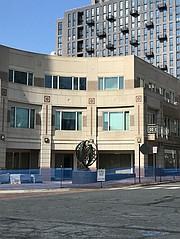 The face of Reston Town Center is changing as a new generation, faced with the center's limited footprint, vies for office and retail space. The only way for construction to meet the demand is to go up.
On Jan. 30, Leidos, a Fortune 500 information technology, science, and engineering company with 32,000 employees worldwide and Boston Properties, Inc., the largest public owner and developer of office buildings in the United States, announced Leidos will relocate its existing Reston headquarters into a newly constructed building at 1750 Presidents St. in Reston Town Center.
The building presents 267,000 square feet of office space and 8,000 square feet of retail space. With a reported $10 billion in annual revenue, Leidos will be the anchor leaseholder for the mixed-use building. As a prelude to its Mission, Vision and Values statements, the company declares on its website, "Everything we do is built on a commitment to do the right thing for our customers, our people, and our community."
According to a press release by Leidos, the new headquarters will be the last office space built in the 86-acre Urban Core of Reston Town Center. Construction is scheduled to begin in spring of 2018.
The architectural firm Shalom Baranes Associates (SBA) in Washington D.C. designed the 17-story trophy-class tower for their client Boston Properties. SBA states on their webpage: the tower will "...anchor the east end of Reston Town Center's original master plan. The building will feature a tenant fitness center, 8000 sf of retail space, and 232 below-grade parking spaces on 4 floors. The design's dramatic angles and stepped massing create opportunities for outdoor space on multiple levels, private terraces on the third and ninth floors and rooftop greenscape and amenity spaces with commanding views of the area."
Leidos reports their new headquarters will house approximately 1,000 employees consolidating existing offices resulting after the company completed its 2016 acquisition of Lockheed Martin Corporation's Information Systems and Government Solutions division.
"We are thrilled to be developing and moving into a brand new headquarters," said Leidos Chairman and Chief Executive Officer Roger Krone. "This will help us centralize Leidos employees in one exclusively-Leidos building, which will make our activities and operations as a company more collaborative and efficient. Our new space will give us the opportunity to build on our culture and brand as a combined company, as well as be able to better tailor our working environment to meet employee needs."