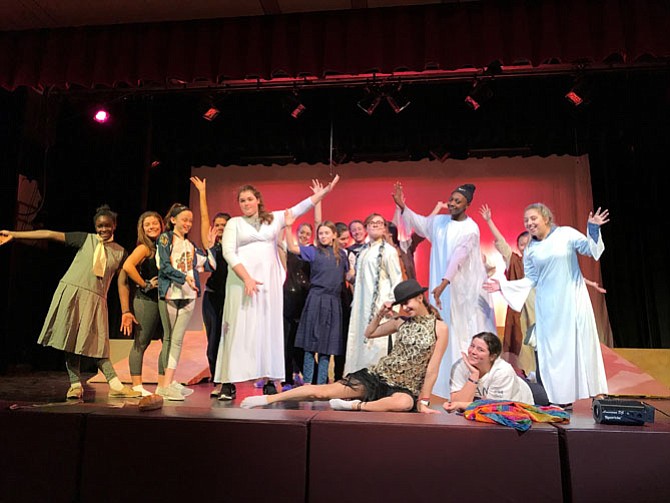 For the third year, students at Connelly School of the Holy Child in Potomac will offer a sensory-friendly version of their annual upper school musical.
The students will perform "Joseph and the Amazing Technicolor Dreamcoat," a classic musical by Andrew Lloyd Webber and Tim Rice, Saturday, Feb. 24 at 11 a.m.; Friday, March 2 at 7 p.m. and Saturday, March 3 at 3 and 7 p.m.
The sensory friendly performance, designed for audience members with special needs, is the Feb. 24 production.
For that, the auditorium will not be completely dark, lights will remain on, but dimmed; the sound level will be lowered, and the audience will be permitted to move about as needed.
The musical has been condensed to shorten the running time to 60 minutes and there will be a quiet room off the auditorium for patrons who need a break.
"We are really excited to offer this theatrical experience," said Elsbeth Fager, director. "Part of our philosophy is to serve the community."
Fager said the tradition of offering the school's annual musical to the area's special needs community began as a suggestion from another staff member.
"This extra challenge has been good for [our students]," Fagan said. "they are really excited to put on this type of show."
Fagan said that she and a team of students, from both the technical crew and the actors, go through the script to find the most essential parts in working to keep the performance to just one hour.
We take out any repetition and work with the volume, she said, noting that loud noises can be alarming to those in the target audience.
There is no charge for the Feb. 24 performance and the school has reached out to a number of groups to let them know about the show, according to Caitlin Chalke, director of communications.
Chalke listed more than a half dozen invited organizations, including Autism Speaks – National Capital Area, Pathfinders for Autism, Potomac Community Resources, Upcounty Community Resources, DC Metro Area Autism Parents Group and the Archdiocese of Washington – Special Needs Ministry.
She also said that Holy Child School is the only local high school that offers a performance of their school musical to the autistic community.
"Additionally, Holy Child will be creating a social story to go along with the play to better prepare those with autism for the play. Holy Child has been working with Carrie Gillispie, a doctoral candidate in Special Education and Disability Studies at George Washington University, on creating this version of the play," she wrote in an email.
"Joseph and the Amazing Technicolor Dreamcoat" tells the Biblical story of Joseph and the coat of many colors from the Book of Genesis almost entirely in music. It premiered in 1970, though it was told in shorter versions beginning in 1968.
Tickets for the March 2 and 3 performances are $10 for those 12 and older, $5 for those under 12. For more information visit www.holychild.org.