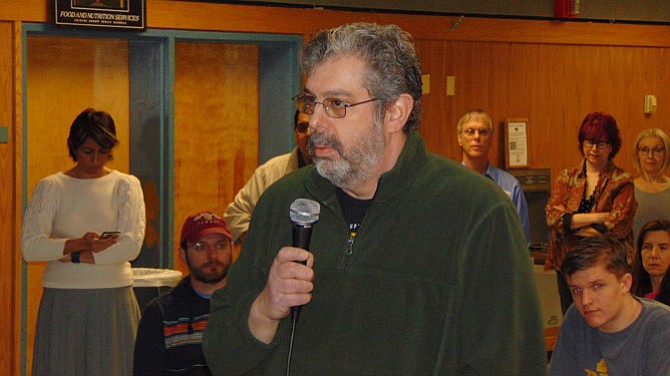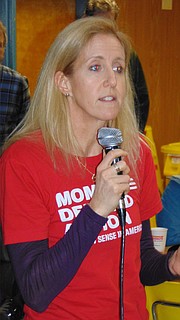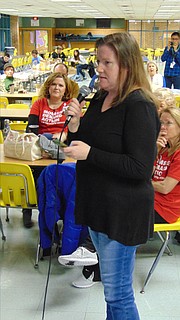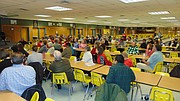 More than 50 people got the chance to hear from their state politicians at the Braddock District Town Hall Meeting on Saturday, Feb. 17, 2018, at Robinson Secondary School. The event was sponsored by the Braddock Democratic Committee, but was non-partisan. The host was its Chairman, Christopher Schaffer.
The six politicians discussed what was happening with their legislation at the 60-day session of the General Assembly in Richmond, where their bills recently crossed-over from one chamber to the other. They also took questions from the audience on issues like the shooting in Parklawn, Fla., Metro funding, Medicaid expansion, renewable energy, high school diplomas for people with disabilities, criminal justice reform and staffing for school librarians.
State Sen. Chap Petersen (D-34) said the No. 1 monetary issue in the General Assembly, which ends March 11, has to do with Medicaid expansion and the ramifications of that. "If we have Medicare expansion, the way it works in our state budget saves us about $450 million on money we could spend on other priorities like K-12 or higher education because we don't need to pick up that money in public health because we're refusing the federal money," he said.
Del. Eileen Filler-Corn (D-41) said the session is dramatically different this year because of the amazing new freshmen. "It feels very different to have more like-minded people standing with us in support of the issues and values that we hold dear and that are so important to all of us," she said. "They're experienced, impressive in their own right, and representative of so many communities that in the past have not been represented."
Sen. Dave Marsden (D-37) spoke about a few issues, including the Dominion Power issue. "I talked to Dominion on a continual basis trying to get this bill into shape. I am fascinated by the idea that a bill at the end of the day will get us 5,000 megawatts of solar energy, which will allow us to retire some existing inefficient fossil-fuel-burning plants, coal and maybe even gas. It will create solar in the public interest. And reform our grid," he said.
Del. David Bulova (D-37) said on the environmental front, he's been pushing for electric vehicles and helping to create an infrastructure for charging stations. "Right now, localities, universities, and parks can't put in a charging station and charge a fee for it because that would make them a public utility," he said. "So, we have been working to get rid of that prohibition. It's over in the Senate side and I think is likely to pass. But if we're serious about electric vehicles and alternative fuel, you have to build up your infrastructure to do that."
In addressing the devastating shooting in Parklawn, Fla., where 17 people died, Tom Cohen of Burke Centre recommended making changes to the gun laws. "There are common sense changes that could be made, starting with an application for a permit. If you've ever been expelled from school for a behavior issue, there should be a red flag. I'm not saying you can't get a gun, but it should be investigated more thoroughly," he said.
Delegates Vivian Watts and Kathy Tran were also present and spoke to constituents.