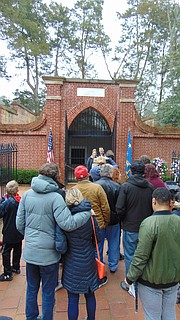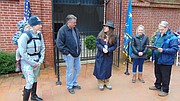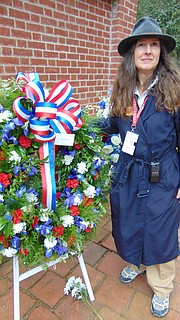 Admission was free to George Washington's Mount Vernon Estate on President's Day, Monday, Feb. 19, which marked the Father of our Country's 286th birthday with more than 10,000 visitors to the site. A line of 100 people stretched around the grounds of George and Martha Washington's tomb — their final resting place — for the afternoon wreath-laying ceremony.
During the ceremony, Marine Corps veteran Holly Long of Quantico recited the Pledge of Allegiance and Eric Lutz of Arlington read Washington's Prayer for His Country. At the tomb, a wreath was sent from President Trump and there were also wreaths laid by Naval members of the U.S.S. George Washington as well as the Freemasons. George Washington is buried to the right and his wife Martha to the left. Some 25 family members are also laid to rest behind the vault.
"Today on President's Day we are honored to have so many members of the public joining us in conducting a wreath-laying for our first president, George Washington, at his final resting place. We will be using volunteers who are also veterans to lay a wreath here," said Anette Ahrens, interpretive supervisor.
Other President's Day activities at Mount Vernon included the Continental soldiers of the Commander-in-Chief's Guard conducting a marching drill, firing their guns and charging their enemy in a military demonstration; and Washington's family sharing stories about past celebrations of the General's birthday. The Old Guard Fife and Drum Corps played patriotic music on the grounds and visitors could also peruse the Washington Library for the opportunity to tour the reading room and examine replica documents. Mount Vernon Estate also held a swearing-in ceremony for new American citizens.