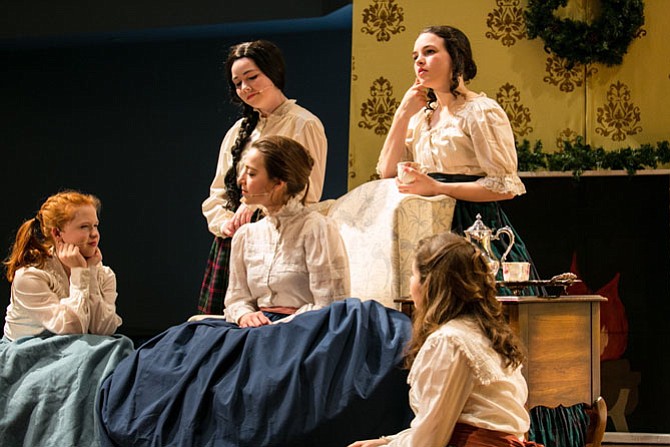 "Christopher Columbus," exclaims an excited Jo to her three sisters as they learn how to live on their own for the first time, only depending on each other. Emphasizing the importance of familial love, Oakcrest School's production of "Little Women" provides a thoughtful take on the classic tale.
Based on Louisa May Alcott's 1869 novel of the same name, "Little Women" was adapted for the stage by Kristin Laurence. This unique all female edition follows the four March sisters, Jo, Meg, Beth, and Amy, living in Concord, Mass., after their father goes off to fight in the Civil War. After their father falls ill and their mother Marmee goes to attend to him in Washington, D.C., the girls are left to face the tribulations of life, and their expected roles in 19th century society, on their own, with only the support of each other to guide them.
Each of the four March sisters showcased a distinct trait, indicating their goals and values in life. Jo, portrayed by Jane Kearns, is brassily tomboyish, completely disregarding the expectations of her to be a proper young lady. Kearns is bold and quick-tongued in her temper, and hilarious when mocking her sister Amy's (Devon Bogucki) request to act more prim and polite. Portraying Meg, Kiley Hatch is longing for a greater life of luxury, while still retaining a matronly responsibility expected for being the eldest sister. Hatch is kind and loving to her sisters, even in the face of resistance, and when confronted for her love of a poor man, is passionate and defensive, communicating a security in her beliefs. Lourdes Navarro is the quiet and contemplative Beth, becoming visibly weaker as she falls ill. Bogucki's portrayal of the youngest sister Amy is bratty and self-centered, yet still caring. She desperately longs for a life of proper normalcy, twirling around in her fanciest dress and fantasizing about marriage. Together, the four girls create a well-rounded family dynamic, being both dependent and resentful of their sisters.
The March sisters' mother Marmee is portrayed by Angela Diaz-Bonilla, who is composed and wise, always there to offer her daughters sage advice. Her composure served to mellow the girls' often exuberant and inflated personalities and bring them to a place of reason. Portraying Aunt March, Eli Crishock is materialistic and rude, commendably embodying the society Jo condemns.
The simple home features aged yellow wallpaper and a grand bay window overlooking a snowy landscape, complete with homey furniture and cozy fireplace. The hair serves to set the period well, and Beth's increasingly pale makeup notably indicates her worsening disease.
Sitting together reflecting on their past year, the March family excitedly rushes to the door to greet their father. With thoughtful actresses and hilarious moments, Oakcrest School's production of "Little Women" dutifully teaches that family bonds come above all, and devotedly mocks the societal expectations of women in 19th century America.