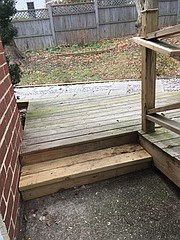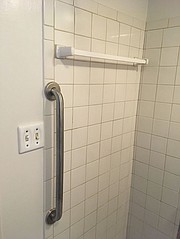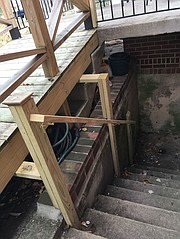 When Pat Bleicher urgently needed work done on her North Arlington house earlier this year so she could stay in her home of 36 years, Rebuilding Together came to the rescue with repairs and modifications.
The project was like many others the organization has completed. In 2016, Rebuilding Together Arlington Fairfax/Falls Church (RT-AFF), a volunteer organization that rehabilitates the homes of lower-income homeowners, worked on 67 houses and nonprofit residential facilities in Northern Virginia.
"I wouldn't still be here if it weren't for Rebuilding Together," said Bleicher after volunteers installed handrails on stairs and a ramp, patched floors, repaired and added lighting and replaced a storm door, along with several other fixes.
What made the work on Bleicher's home a little different was the role an occupational therapist played in identifying the hazards that made it difficult for the 76-year-old homeowner, recovering from two knee replacements, to live comfortably in the house.
"We look at safety, fall prevention, how to help them stay mobile," said Natalie Kraut, an occupational therapist for Fox Rehab, describing what she does for Bleicher and other clients. Fox Rehab is a private practice that provides geriatric therapy at home.
"Occupational" may sound unusual for stay-at-home residents, Kraut added, "but it just means how we function — what we do every day."
Fox Rehab uses a holistic approach in helping clients recover and avoid future problems. Physical, speech and occupational therapists work together as a team. In Bleicher's home, Kraut noticed inadequate lighting and the lack of a railing on basement steps. Some stick-on grab bars used suction cups, which can fail and cause a fall.
Fractures due to falls are the leading cause of trauma-related hospitalizations and loss of independence among older adults, according to the Centers for Disease Control and Prevention. Each year, about 29 percent of those 65 and older report a fall.
Medicare covers the expense of medical equipment but does not cover home safety improvements such as guardrails and floor repairs that can prevent falls. Kraut was able to help Bleicher with a few fixes, such as a sink that was too low, but the resident could not afford major work.
A friend told Bleicher about Rebuilding Together, and after an assessment for health and safety hazards aided by Kraut's recommendations, a team of six skilled volunteers completed the work in less than a day.
The project demonstrated that the two organizations may be able to work together. Kraut said the RT volunteers showed her other problems to check for in homes, and Don Ryan, director for partnerships for RT-AFF, said Fox Rehab's clients are top candidates for home repairs and modifications to prevent falls.
"Their professional assessment was a good fit for what we do," said Ryan, adding that RT can brief therapists on what to look for in homes. "We welcome referrals and hope we get more of them from home health-care providers."
Bleicher is grateful for the work that was done, praising Kraut's attention to detail and Rebuilding Together's thorough repairs and additions. "My home is much safer now," she said. "This will really help me stay here."
RT-AFF works on homes year-round and always welcomes new volunteers. To become a volunteer, make a donation, or to apply for help, call Rebuilding Together Arlington/Fairfax/Falls Church at 703-528-1999 or send an email to info@rebuildingtogether-aff.org.
Homeowners looking for help can apply at any time of the year. Priority is given to the elderly, disabled and families with children.
(Frank Davies is an editor for the AARP Bulletin. He worked as an editor and reporter for The Miami Herald and San Jose Mercury News for many years.)