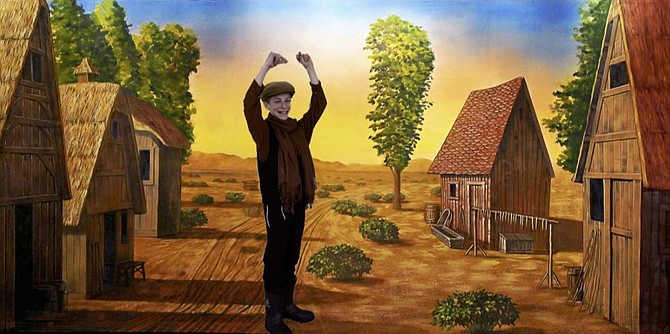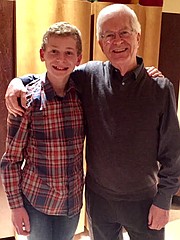 "Fiddler on the Roof, Jr." tells the tale of the preservation of family traditions, relationships, love and marriage. Bravo Productions' presentation pulls together more than just the story-line; it encompasses three generations of involvement from the same family.
"Bravo Productions," said Executive Producer Laurie Levy Issembert, "has always been a family-oriented performing arts organization. Children are taught the art of musical theatre production and performance, while their parents are encouraged to share the experience with their children and work on some aspect of the show. 'Fiddler on the Roof, Jr.' with a cast of 30 children and four performances at the Randolph Road Theatre on Jan. 13-14, expands that family feel to include grandparents."
"Fiddler on the Roof" is a musical set in Imperial Russia in 1905. It is based on "Tevye and his Daughters" and other tales by Sholem Aleichem. The story centers on Tevye, the father of five daughters, and his attempts to maintain his Jewish religious and cultural traditions as outside influences encroach upon the family's lives. He must cope both with the strong-willed actions of his three older daughters, who wish to marry for love — each one's choice of a husband moves further away from the customs of his faith — and with the edict of the Tsar that evicts the Jews from their village.
Will Sexter is performing as Tevye in this production. Playing Tevye in "Fiddler on the Roof, Jr." is part of a parallel educational journey for Will as an 8th grade student at the Charles E. Smith Jewish Day School. Though Fiddler's overwhelming appeal is that it translates to every culture worldwide, Will can relate to this particular storyline because his Jewish forebears came from Russia and Eastern Europe and undoubtedly led a life similar to his theatrical family. Will's previous credits with Bravo Productions have been as Smee in "Peter Pan Jr.," Mr. Mayor in "Seussical Jr.," and Prince Eric/King Triton in "Disney's The Little Mermaid, Jr."

As in Fiddler's theme of family relationships, Issembert has had a theatrical relationship with Sexter's family since before Will was born. Since 1997, Issembert has worked with Will's three aunts Gabriella Bender-Laskow, Diana Bender-Bier, Sara Bender-Bier and Will's grandfather, Dr. Charles J. (Kevie) Bier on over a dozen productions. Diana is now a member of the Emory Dance Company and continues to dance and choreograph at the college level. Issembert was the producer at the Musical Theater Center (MTC) in Rockville for 15 years and during that time, Gabriella, Diana and Sara were cast in such student productions as "Seussical," "Annie," "Children of Eden," "High School Musical," "Footloose," "Fiddler on the Roof," "Charlotte's Web," "Anything Goes" and "Peter Pan." Kevie Bier will be backstage again, serving as stage manager for his grandson in Bravo's upcoming Fiddler . He says, "Although some of the demands are a lot for a senior citizen like me, the underlining theme of the show is tradition — and I am there for Will and Laurie — and for Bravo Productions."
One of the most unforgettable shows — due to a variety of mishaps for both Issembert and Will's grandfather Kevie Bier — was the Rockville Musical Theater Center's "Peter Pan." This show had many humorous and scary moments — and it created not-to-be-forgotten memories for all. Bier, who practices internal medicine at Washington Preventive Medicine and Longevity came on board as stage manager for "Peter Pan" because of the use of Broadway's flying specialists, Foy, to lift Peter, Wendy and Michael up into the audience sky. Bier also served as production doctor and was called upon to tend several serious injuries on that production, but ironically, none involved in the flying. Peter Pan (Valerie Issembert and now Bravo's artistic director), threw a theatrical "bomb" offstage which Bier caught on the chin. He ended up in the emergency room where he was promptly treated and returned for the second performance of the day. Peter Pan herself met with an ankle injury while dueling on Captain Hook's boat and Bier gave her a quick off-stage shot to ease the pain and flew her back onstage. At Bravo Productions, "the show must go on" and "up" in "Peter Pan."