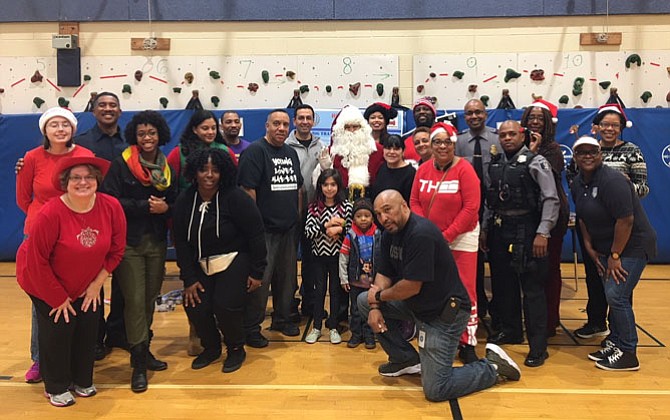 Alexandria — Christmas arrived early for more than 250 children from local Head Start programs and Hopkins House as they picked out toys and visited with Santa during the annual Firefighters and Friends to the Rescue toy drive distribution day Dec. 12 at Penn Daw Fire Station 11.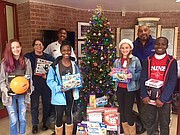 "We distributed over 3,500 toys, bikes and gift cards to 80 schools, shelters and nonprofits in Alexandria and Fairfax County," said Alexandria City Councilman and Fairfax County Battalion Chief Willie Bailey, who founded the toy drive 18 years ago. "Prior to the distribution to school representatives, we escorted and gave toys to local preschool kids."
Bailey said that 800 new coats were also given out to children in need. More than 80 volunteers were on hand to help with the distribution, including firefighter Dave Saunders and his son Hunter as Santa and his elf, and Caring Angels Therapy Dogs and their handlers.
Sponsors of the toy drive include: Firefighters & Friends to the Rescue; Fairfax County Fire & Rescue
"I learned to give not because I had much but because I know exactly how it feels to have nothing."
— City Councilman Willie Bailey
Department; Apple Federal Credit Union; Whole Foods; Ken & Kelly Savittiere; Jack Taylor Toyota; Nationwide Credit Corporation; Caring Angels Therapy Dogs; Progressive Firefighters of Fairfax; Local 2068; Union Street Public House Restaurant; Bruce Witucki; Fairfax Fire & Rescue Retirement Association; Promax Realtors; Fairfax County Federation of Teachers; Mission BBQ; InspirLit (provider of 100's of new books); FCAC Delta Sigma Theta Sorority; Saint Stephens & Saint Agnes Middle School; Fairfax County Police Department; Fairfax County Sheriff's Office; Primo Family Restaurant; Modern Technologies Solutions; Irish Times Restaurant; Anthem Health Keepers Plus; and Gates Hudson.
"So many organizations came together today to make this a wonderful event not only for the kids but also for the volunteers," Bailey said. "We had staff from the local schools telling us that some families were deciding whether to pay a bill, purchase food for the household, or buy gifts for the kids. Hopefully today we were able to take some of the pressure off of those families and make that decision a little easier."
For the eighth year, students at St. Stephen's & St. Agnes Middle school assisted Bailey in collecting toys for families in need.
"I have been asked for so many years why I do this," Bailey said. "All I can say is that I learned to give not because I had much but because I know exactly how it feels to have nothing. The best gift I have received for the past 18 Christmases is watching the smiles on the kids' faces."