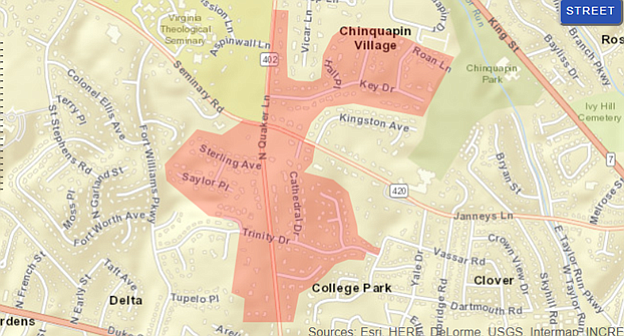 A sudden rush of cold weather wreaked havoc on pipes in Alexandria. On Sunday, Jan. 7, a sprinkler pipe burst at the Gadsby's Tavern Museum, causing flooding from the second floor to the basement of the historic 18th century building. Damage to the historical structure is currently under review, but impact on the museum collection was minimal. The museum will be closed through at least Jan. 24, though dance nights and other planned events on the restaurant side will proceed as scheduled.
Two days later, on Jan 9, a water pipe burst at George Washington Middle School, closing the building for two days. A school press release said the school's aging infrastructure meant the building was particularly hard hit by the sudden freezing temperatures.
That same day, the city faced two water main breaks in the Chinquapin neighborhood, one at Janneys Lane & N. Quaker Lane, and another at Trinity Drive. Nearly 200 residents and 29 local fire hydrants will be without service.
At the Jan. 9 City Council meeting, City Manager Mark Jinks warned that more breaks are likely on their way with rapid temperature fluctuation.
"That these are the only water pipe breaks is amazing given age of city pipes," said Jinks, knocking on the wooden dais as he spoke. "It's a sign of city repair work working well."