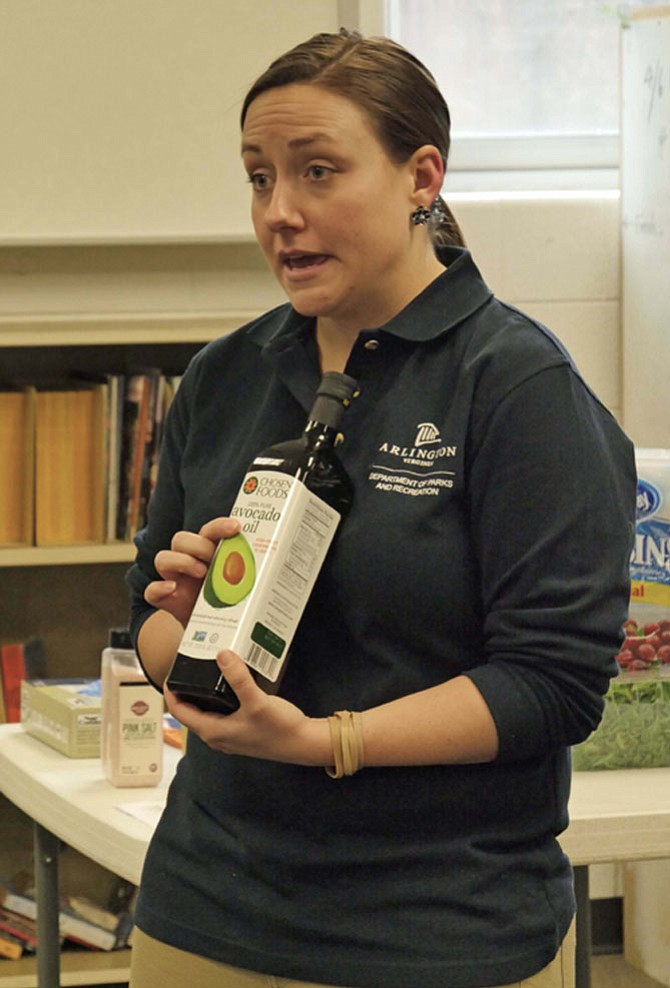 Brochures on "Eating Right for The Older Adults," "Smart Snacking" and healthy recipes sit on the table at Langston-Brown Community and Senior Center. The first class in a new series, "Nutrition for Real Life," is about to begin. It is being offered to Arlington seniors.
Tori Gwilliam, nutrition educator for Arlington Parks and Recreation's Office for Community Health, is demonstrating a barley salad with cranberries and pears. Gwilliam has lined up a large bowl of arugula alongside a container of cooked barley and ingredients for the lime-sherry vinegar dressing with avocado oil.
Gwilliam says they will be concentrating on "Nutrition in the News" — the messages people get and how to evaluate them. She explains how to apply the latest research in the science of health and nutrition to real life. For instance, if you read something that sounds too good to be true, it probably is. And if something seems to be a quick fix, it probably isn't, because complicated medical problems seldom have simple, effortless solutions.
She continues to explain that balance is important. Half of your plate should be fruits and vegetables but you shouldn't leave out a food group. "What you don't eat can affect your health, too."
Gwilliam points out studies are often released with headlines about "the last weight control diet you will ever need" or "lose pounds while you sleep." But she advises to ask how many other studies have come to the same conclusion. Ask who was studied, how many people, and were the results based on testimonials. She asks how you can find reliable sources and hands out a list of credible websites. "We need the build a box of tools to help evaluate these claims."
The best part is yet to come — tasting the salad. The following classes in the series will be held at various senior centers in Arlington County and include a demo, taste testing and nutrition information. Gwilliam is a registered dietitian nutritionist with a passion for healthy eating.