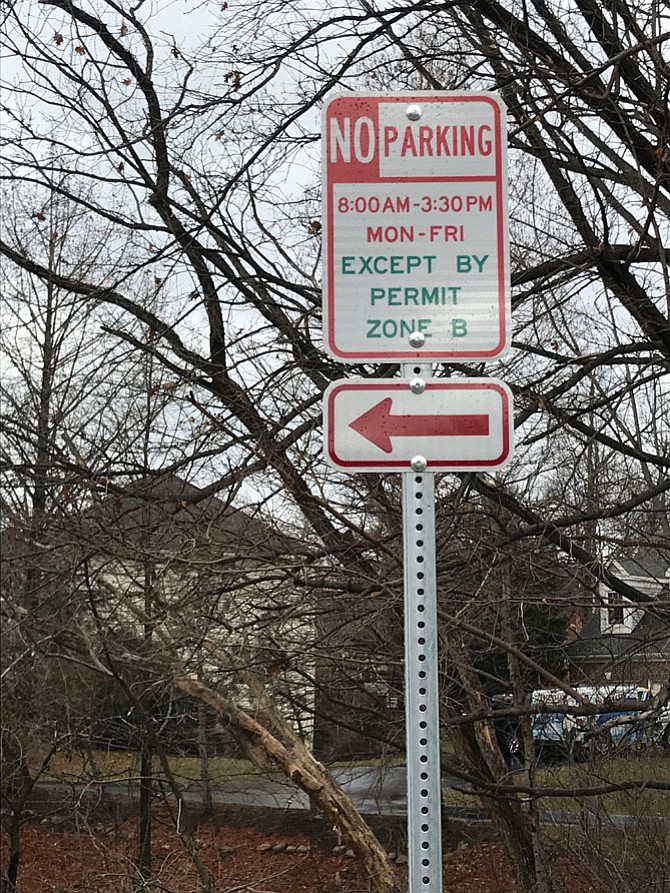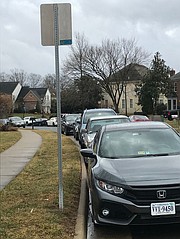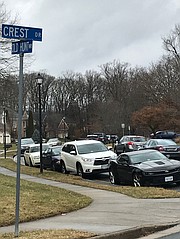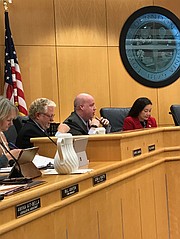 A month after a new Residential Parking Permit Program went into effect in the Old Dranesville Hunt Club area near Herndon High School, residents there remain frustrated with a continued parking crunch caused by HHS students parking in the curbside spaces. At the Jan. 9, 2018, Herndon Town Council Public Hearing, Bill Ashton, Town Manager, presented a staff report for a proposed "Residential Parking Permit Program: Expanding the Old Dranesville Hunt Club Zone."
Ashton reviewed the 2017 situation, which caused the current Old Dranesville Hunt Club Residential Parking Permit Program to go into effect. Ashton reminded the Town Council they had received resident complaints of a high volume of cars parked in their neighborhood and reports of litter and increased speed. Ashton told how construction at Herndon High School had reduced the availability of on-campus parking forcing students to seek to park in the nearby residential neighborhood. Ashton cited that in accord with Code criteria for the establishment of a residential parking permit program, a petition requesting action had been signed by 91.6 percent of residents and received.
ASHTON DEFENDED the current 2017 Parking Permit Program. He said, "We went as far as we could under the ordinance," based on studies and conditions on the ground. He added that they had established a zone of "100 spaces give or take."
Ashton said when the no parking signage was actively enforced beginning Dec. 1, the problem shifted, as they anticipated to different locations in the neighborhood including further down Old Hunt Way. Unable to park at the high school and now unable to park in the 100 plus restricted parking spaces, students sought to park anywhere else in the neighborhood they legally could.
Ashton reported on Monday, Dec. 2 he had staff "back out on the ground" studying the effects of the zone on Old Dranesville Hunt Club in areas where parking remained open. "We started taking traffic counts. We started looking at whether these folks were residents of Old Dranesville Hunt or not," he said.
Ashton reported staff observed 65-75 percent of the spaces occupied. Code limit is 65 percent. When they ran the license plates numbers for these vehicles, 65-89 percent were not registered in the neighborhood. Code limit is 25 percent.
In his presentation to the Town Council, Ashton said the proposed amendment on the table that evening would expand the current parking program by 82 spaces. "The largest expansion possible while keeping consistency with the Code," he said. Ashton added the impacted area would be parking by permit only, 8 a.m. to 3:30 p.m. Monday through Friday. It would include Crest Drive from the intersection with Old Hunt Way to Herndon Parkway and "Huntsman Place from its intersection with Old Hunt Way to 715 Huntsman Place and Old Hunt Way from 735 Old Hunt Way to 669 Old Hunt Way." Ashton acknowledged though while there would be no parking at the top of the street near the Montessori school, 24 parking spaces would remain open and hence available to students and others at the bottom of Old Hunt Way.
Ashton said he and Herndon High School Principal Elizabeth Noto had been in conversation. He told how Noto had assured him she anticipates having a gravel parking lot that had been impacted by recent construction at the high school and had drainage issues, in place very soon. Ashton said Noto told him given recent modifications she can now get students who are in the permanent parking lottery on site now and those in the temporary lottery she is sure she will be able to accommodate once the gravel lot is in place. "She wanted me to assure you she wants to work with the town and be a good neighbor," said Ashton.
Many citizens from the impacted area turned out to comment, among them Tom Tamaccio, secretary, Old Dranesville Hunt Club Homeowners Board who said he was speaking for the Board. Tamaccio told the Council while residents in the neighborhood had seen improvements and they are appreciative of the help, he emphasized: "We still do have a problem...ultimately we're going to need to have a total residential program to resolve the problem."
OTHER RESIDENTS who commented agreed but noted under the proposed amendment leaving the lower end of Old Hunt Way with parking availability, that there is also a safety concern. A cul-de-sac is located there; a favorite space for young children to play and it is gathering space for residents.
Richard Romero who lives on Old Hunt Way noted another safety concern. Since he works from home and can see the street throughout the day, he reported when cars park on both sides of the road; traffic becomes backed up. "My big concern is that if an emergency service vehicle tries to get to one of those homes, and if someone's life was a matter of a few minutes, they are not going to survive. I can assure you, a fire truck, a police car, an ambulance will sit in traffic on that street," Romero said.
Many citizens expressed frustration with the system asking why wait for the scenario to play out in a third location and asked for clarity in why more aggressive parking restrictions cannot be put in place now. Ashton reiterated that by Virginia Code, the proposed expansion of 82 spaces is the largest increase possible at this time.
During comments from the Town Council, Councilmember Grace Wolf Cunningham assured the audience they have taken as many parking spaces as Code will allow. She stressed they want to be sure the whole neighborhood is safe and acknowledged she is aware the cul-de-sac is really where the neighborhood heart is. Wolf said to the residents, given the approval of the amendment, "I urge you, as soon as you see students parking in the 24 uncovered spaces, to come back to us... to reevaluate the study for the remaining 24 spaces so that we can start that process... and we can go from there."
Mayor Lisa C. Merkel called the question to amend the current Residential Parking Permit Program: Expanding the Old Dranesville Hunt Club Zone. The Herndon Town Council passed the motion unanimously.