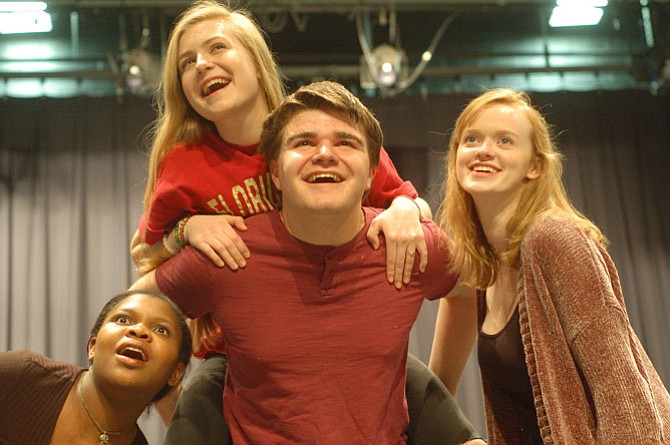 A children's show with a timely message is the next production of the Fairfax Academy's Musical Theatre Actors' Studio. "Honk!" will take the stage at Fairfax High School for seven performances between Jan. 25-28.
It's a musical-comedy version of Hans Christian Andersen's classic, "The Ugly Duckling." In the story, a duckling called Ugly is teased by his family and other barnyard animals because of his looks. So he runs away, has adventures and meets other animals who teach him that beauty is only skin deep and it's what's inside that matters.
"By the time he returns home, he's turned into a beautiful swan," said Director Mike Replogle. "The lesson is that we should look past the exterior and that we're all the same and beautiful on the inside and we should be inclusive. And I think it's an important message to remind people of in today's world."
PLAYING THE LEAD ROLE of Ugly is senior Craig Goeringer. "Ugly feels different than all the other ducks and geese on the farm," he said. "One day, a cat comes in and leads Ugly astray, and eventually Ugly gets lost and tries to find his way back home, meeting a lot of different characters along the way who teach him about acceptance and loving himself."
He said the show teaches children that "it takes all sorts to make a world and it's important to love and accept others in the same way you wish to be accepted."
Goeringer said rehearsals have been fun. "It's been fantastic to work with such kind people to make this show," he said. "And besides the vocals, this role is very physical, too."
Classmate Samantha Price portrays Ugly's mother, Ida, "She sees him as he really is and has unconditional love for Ugly," said Price. "When she loses him, she leaves her family behind to look for her son."
"This is my first lead and I'm loving it," she continued. "There's more pressure, but it's good because people depend on you. And it gives you a greater sense of purpose. This is more work than anything I've done so far because the energy and focus level must stay so high. But it's also more fun, and this is definitely the role I wanted. The show proves that it's OK to be different and that we should all stand up for each other."
Playing the cat is senior Eila Nash. "The cat thinks the farm animals are kind of gross, but also wants to eat them," she said. "Then she meets Ugly and kidnaps and tries to eat him. And throughout show, the cat is scheming to eat Ugly, even after he figures out her scheme."
Nash, who also does screenwriting and playwriting, said it's been "really nice getting to know new people from other schools that I otherwise would never have had the chance to work with. And it's interesting to work with a director other than the one at my base school because their styles are so different."
Classmate James Mayuga portrays Drake, Ugly's dad. "As his son finds out who he truly is, Drake has to accept the consequences of being a bad father, at first, and discouraging Ugly's uniqueness," said Mayuga. "I hope kids learn that, no matter what, beauty is going to be found on the inside and everybody should be treated with the same kind of respect."
He's already gotten into the American Musical and Dramatic Academy for its acting bachelor of fine arts program, but will also audition for Norfolk State University's musical theater program.
PLAYING MAUREEN, a moorhen who's Ida's best friend, is senior Samantha Wallington. "One of Maureen's closest friends has just had a bunch of ducklings, and Maureen tells Ida how wonderful it is to be a mom," said Wallington. "But then she says Ugly is a disgrace to her family. The moral of the story is that it's OK to not fit in, because you'll eventually find your place, even though at first you might be ostracized. You'll always find another group of friends."
Wallington plans to major in musical theater or vocal studies in college and has enjoyed rehearsals for this show. "It's been busy," she said. "But I've had fun working with different people and a new cast of characters that I wouldn't have been able to if I weren't part of the Fairfax Academy."