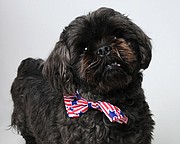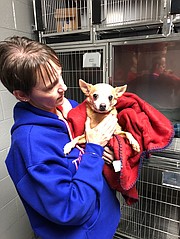 Alexandrian Raza Alam and his family had been searching for a year and a half for the perfect dog — one that was small and calm and could ease into daily life with a toddler and an energetic puppy. The search ended at the Animal Welfare League of Alexandria (AWLA) when they met Muppie, a dark-chocolate-colored Shih Tzu who had been transferred in from southern Virginia. The Alams weren't concerned that Muppie was 13 years old and nearly blind. "Muppie was the dog we had always wanted," Alam said. "We went to the shelter, and there he was."
Muppie's journey to Alexandria resulted from a relationship AWLA has forged with a government-funded shelter in Galax, Va., and a newly developed animal rescue group called Fur-Get-Me-Not. In the city of Galax and the surrounding Grayson and Carroll counties, the shelters often overflow with homeless pets.
Published statistics had reported a 90 percent euthanasia rate for cats at the Galax shelter and 60 percent for dogs. The shelter has just 36 kennels, including two used for cats and two for quarantined animals, as well as a small room for cat cages. However, in a recent month the facility took in 74 dogs and 162 cats.
The shelter's new director, Jessica Vass, who is one of only two employees, is committed to lowering the euthanasia rates and welcomes help from outside, which is not the policy of all shelters. "Alexandria has been really, really helpful in reducing our shelter population," Vass said. "We recently sent a bonded pair of collies called Sugar and Mini Me up to Alexandria, and they were quickly adopted. I have very few people down here interested in taking two dogs."
Fur-Get-Me-Not rescue is helping the Galax shelter overcome its challenges. The group makes nearly daily trips to the shelter, seeking out animals whose chances for adoption are slim. Jen Roberts, the group's president, says, "They get lots of hounds, beagles, pit bulls, old dogs, old cats … Some of the animals considered unadoptable here do just fine in Alexandria." Each time the AWLA meets Fur-Get-Me-Not to pick up animals, they also bring donated goods from the Alexandria community that cannot be used by the AWLA but are in great need in Galax.
"People in our area tend to think of shelter pets as 'bad seeds' or having behavioral issues, so many of those that are sent up to the AWLA have been in the shelter situation for quite some time," Roberts said. "Others become 'repeat offenders,' when people expect a perfect pet who will automatically fit right into their schedules, and do not give the animal time to adjust to a new environment."
Roberts says the AWLA's willingness to help with these animals has "made it easier to breathe." The hope is that the relationship will not only save animals' lives but also give the Galax shelter the time and energy to raise funds to build a new shelter, and to focus on spay/neuter efforts to address pet overpopulation in the region.
"We couldn't have asked for a better time for [the AWLA] to walk into our rescue path," Roberts said.

The Animal Welfare League of Alexandria, which operates the Vola Lawson Animal Shelter for the City of Alexandria, is an independent, local, 501(c)(3) non-profit organization. The AWLA is committed to ending animal homelessness, promoting animal welfare, and serving as an educational resource for the City of Alexandria community. More information is at AlexandriaAnimals.org.