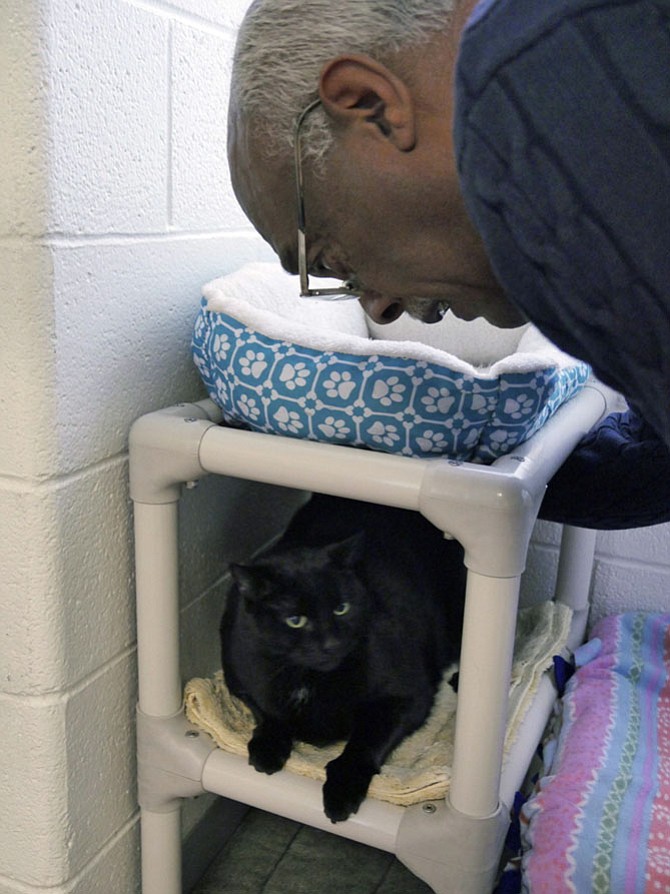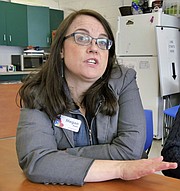 Lynnwood Campbell opens the door and walks into the compartment housing a large black cat and coaxes Max out of the corner where he is hiding. "Every time I come here I go talk to the cats. They are so nice that I go home and tell my cat, still wild at 13, that I'll trade him in."
Campbell has recently retired as treasurer of the Animal Welfare League of Alexandria board of directors. He took a long route to get to where he is but most of it started with Vola Lawson. "She was city manager in Alexandria, and I worked with her for many years when I was on the School Board. Campbell says when he got off the board she called him because United Way had a huge scandal. "She wanted me to go up and see and help straighten it out. I said, 'oh, no, I'll ruin my reputation.' She told me I was going."
Then Vola came back again and asked him for a small favor. "She asked me to be on the board of the Animal Welfare League of Alexandria. I told her [I would] after I retired. The minute I retired she knocked on my door and brought me an application for the shelter. I said I'll fill it out and turn it in and she said, 'no, I'll wait for it.'"
He had been at the Treasury Department for 32 years, as director of Accounting and then director of Internal Review. "I used to say it would be nice if Vola would lose my phone number because every time she calls for a small favor, it becomes big. She was a great lady."
Campbell says his concept of a shelter before he came here was that they went out and picked up stray dogs. "But there are good, healthy animals here." He says people surrender their pets for a number of reasons including some can't afford them any longer, some military people are moving or some can't handle their pets. "My concept now is that they pick up strays that are unhealthy and make them healthy, change their behavior problems. It is clean and modern, and the staff is dedicated." He adds, "they are so concerned about the animals here and everything goes quick." He says that the director, Megan Webb, knows the latest techniques of animal care plus management techniques which she teaches to other organizations.
Webb points out the length of stay for animals has gone down since she came almost five years ago, and now averages 16 days. "But," Webb says as she walks down the aisle of cat cages, "I can show you our longest visitors here, 10-year-old Tofu and Tempheh. They must be hiding." A new sign displayed on the door announces "Adopted."
"Adopted! I can't believe it. It must have just happened." She repeats, "Adopted!" The cats had been at the shelter for nearly a year. Webb says when she first came, there weren't as many animals available for adoption. There is space for about 25 cats in this room. "But we divided the cats up into two rooms because research shows when there are too many animals in the same space, people can't decide." Web says it worked because the number of adoptions increased.
Campbell says the Alexandria facility accepts a number of animals from other shelters who can't care for them and would have to euthanize them. That is a last resort at the shelter. Webb adds, "we even recently took dogs from South Korea and saved them from being eaten." She said there is an effort to shut down the meat farms there and to convert them to blueberry farms or another profitable business.
Besides his duties as treasurer — supervising the comprehensive budget to be presented to the board — Campbell participates in the strategic planning for the future and the Combined Federal Campaign fundraising efforts. "I take a volunteer and a dog and go to a government agency to help raise funds."
Also he says, "have you heard of Animeals? Volunteers take excess food from the shelter to seniors who can't afford to feed their pets. It's like a Meals on Wheels for pets."
It is almost noon when visiting hours begin for prospective adoptions. On a weekday they might expect 3-4 adoptions but on the weekends there could be over 20 a day. And in Webb's view, an empty cage means one less animal could be helped.
People at Work is a weekly column featuring people in the community doing their jobs. Suggestions can be sent to slrbc@aol.com.