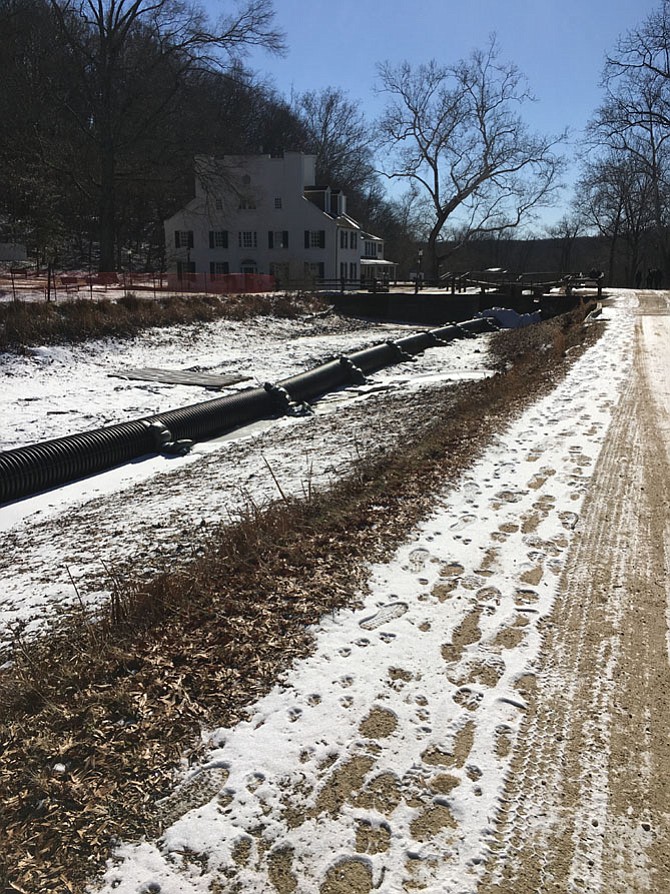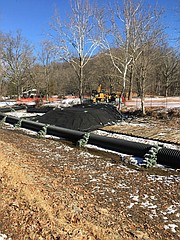 Visitors to the C&O National Historical Park at Great Falls in Potomac can already see evidence of a $6.7 million project to the improve local sections of the Chesapeake and Ohio Canal.
The canal has been drained between Little Falls, below Glen Echo, and Violettes Lock near mile marker 22. Pipe has been laid on the canal bed to drain water from the construction, orange fencing is up to guide visitors safely along the towpath and workers have begun preliminary construction.
It's a big project according to Pete Peterson, supervisory park ranger for the Chesapeake and Ohio Canal National Historical Park Palisades District which includes all of the park in Montgomery County.
"Eight different structures are going to be repaired, in stages, over the next 500 days," Peterson said.

The National Park Service announced the project, called Maintaining the Flow, last month.
"A $6.7 million construction project will soon be underway to improve several locks, waste weirs, bridges and other water control structures within one of the most popular segments of the Chesapeake and Ohio Canal National Historical Park (C&O Canal). These improvements will help the park's historic structures withstand impacts from Potomac River floods and make the features easier to maintain," a December press release said.
More than 5,000,000 visitors a year visit the park, according to the press release.
Peterson said the whole project is going to take all of 2018 and probably to April 2019.
"It's temporary," Peterson said. "The end goal is to enhance the structures and the visitor experience."
Areas of the park that will be directly impacted by construction are Swain's Lock, Great Falls Tavern, Olmstead Island, Carderock, Rock Run Culvert and Lock 7 – Glen Echo.
Peterson said visitors to the park will be directed around construction and have full access to the tow path and trails in the park.
He said the Charles Mercer, the Park's excursion boat will not operate this summer since there will be no water in the canal. He is hoping that visitors will be able to go on the boat for interpretive programs.
"We will be having interpretive programs, living history and guided walks," he said.
More information can be found at www.nps.gov/choh, the park's website.