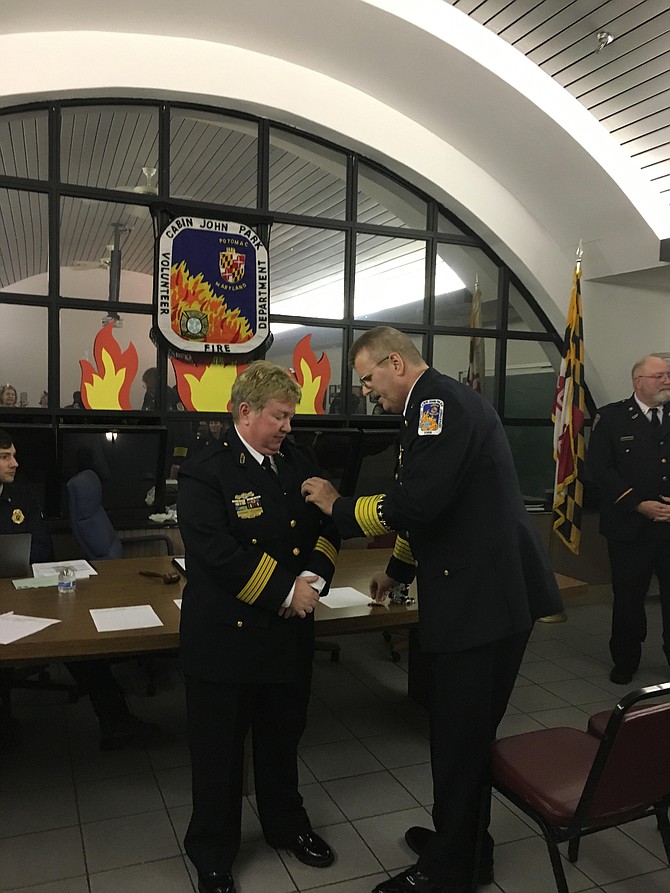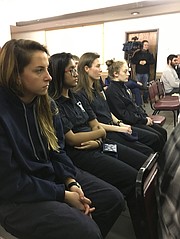 Corinne Piccardi, a 19-year member of Cabin John Park Volunteer Fire Department, was installed Monday, Jan. 22, as the department's chief, the first female to earn the rank of chief in Montgomery County. She has been serving as acting fire chief, taking over the reins from James Seavey who served in that position for 26 years.
"Corrine has been here almost 20 years," Seavey said. "She and I hit it off very quickly because she is such a worker. She said her goal was to be chief of this department."
The new chief expressed her thanks to Seavey and to her family for their support and to all of the volunteer firefighters who work to keep their communities safer. She pointed out that 69 percent of all firefighters in the United States are volunteers.

"My success could not have happened without those in this room and those who sat in this room before and those who will in the future," Piccardi said. "My job is to find the balance between [the past and the future.]"
Piccardi said she looks forward to the challenges ahead.
In a press release announcing her appointment, Michael Harting, Cabin John Park VFD board president, called her "a visionary — a forward thinker who brings not only a wealth of background and experience to the chief's position but also respects the heritage and community values of the Cabin John, West Bethesda and Potomac citizens we serve."
Piccardi, 47, is a Baltimore resident. She is married to Monika Piccardi and is the mother of Nicole,18, and Riley, 8, who were at Monday's dinner and swearing in, celebrating with CJPVFD members and fire officials from Montgomery County.
The fact that her mother is the first female fire chief in Montgomery County is an inspiration, Nicole said.
"It's showed me that no matter who I am, I can do anything," she said. " It makes me proud to be her daughter."
Kerry Pullano, 17, and Brooke Holden, 18, probationary members of CJPVFD, said they find it inspiring to have a female chief to look up to.
"Its empowering because, like me being a probationary member, … to see how far you can go," Pullano said.
Besides Piccardi's long track record in all department ranks, the board and membership cited her specialty training and qualifications in fire suppression, emergency medical service, swift-water rescue and community outreach in a press release.
"The new chief will oversee more than 100 active firefighters and emergency medical service, administrative and auxiliary volunteers. Her leadership philosophy and approach to public safety management are straightforward," the press release said.
"Everything we do is to make the community safer," Piccardi is quoted in the release. "I don't believe in stagnation. We can consistently explore ways to better serve our citizens, fellow first-responders and volunteers."
Born and raised in Manly, New South Wales, Australia, Piccardi holds a Bachelor of Education degree from the University of Sydney and taught locally in Potomac and Bethesda private schools for 13 years as well as seven years in Australia. She is a nationally certified full-time firefighter/paramedic with the Manchester Fire Department in Carroll County and works part-time for Baltimore County's newly established Upperco Volunteer Fire Department.
"I hope that I am the first of many female volunteer firefighters who put in the work and achieve the rank of Chief Officer. The fire service is a male-dominated industry and that is particularly evident in the volunteer service. This is a nationwide trend and not just evident in Montgomery County. All fire organizations struggle to recruit and retain women on the fire side of the service, the EMS side of the service is more attractive. Why that is, is a discussion that could take hours. MCFRS and CJPVFD has provided me with every opportunity to succeed but it is 2017 and we are still having to highlight the progress of women into a role that they are very capable of filling because we still meet resistance simply because of our sex," Piccardi wrote in a December email.